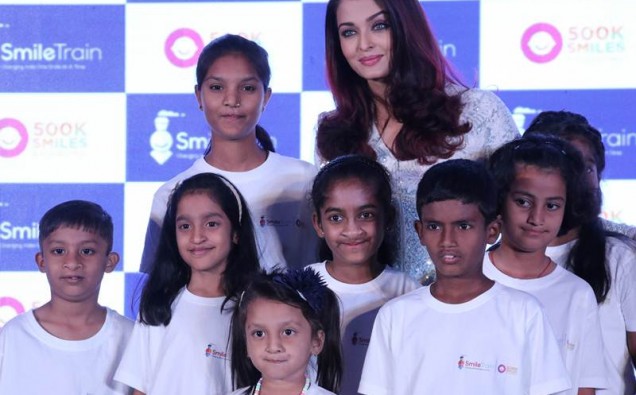 This March, Smile Train – the international children's charity which empowers local medical professionals to provide free cleft repair surgery and comprehensive cleft care to children around the world – is celebrating creating their 500,000th smile in India.
Smile Train has helped children in over 85 developing countries, and have been present in India since 2001. Over this time, Smile Train has helped to give 500,000 Indian children their forever smiles. Smile Train's sustainable model provides the training and resources to empower local surgeons to provide free cleft repair surgery and the essential treatments needed beyond surgery – such as nutritional support, orthodontic care, dental care, and speech therapy.
From their humble beginnings in India 17 years ago, Smile Train's local medical partners now perform over 40,000 cleft repair surgeries each year.
In celebration of this 'Smilestone', the organisation launched an event in India earlier this week, which was hosted by Bollywood Actress and long-term Smile Train Goodwill Ambassador, Aishwarya Rai Bachchan.
Aishwarya joined 100 doctors and former Smile Train patients, as well as their families, at the event in Bandra, Mumbai, in celebration of the 500,000 cleft repair surgeries that have been undertaken.
Also tying in with this momentous occasion, and to demonstrate the life-changing work carried out within the region, Smile Train have recently launched two new 360° virtual reality videos which offer a glimpse into the world of two Indian children with untreated clefts, Vikas and Nisha. Within the videos, viewers are invited to follow Vikas and Nisha on their cleft journey, as they each receive life-changing surgery and the opportunity to live health, productive lives.
In countries such as the UK, children born with cleft lips and/or palates are typically treated at birth on the NHS. As a result, the general public may not be properly educated about clefts, including the serious health implications and social stigma a cleft can have on a child when left untreated.
Smile Train's virtual reality technology transports viewers into the world of a child living with a cleft in India, making them feel as close to the experience as possible without actually being there. This  allows Smile Train to reach people not only in the UK, but all over the world, helping them to better understand the many challenges that children with untreated clefts are facing – and bring to life the change that Smile Train is driving.
Ian Vallance, Fundraising Director, Smile Train UK, says:
"The joy of witnessing a child's first smile is priceless, so we're absolutely delighted to be celebrating our 500,000th cleft repair surgery in India this month.
I would like to say a heartfelt thank you to everyone who has supported Smile Train, past or presently, and allowed us to create this many smiles. Your generous donations not only enable us to provide life transforming surgeries, but also help us train doctors, surgeons and nurses to provide safe, high-quality cleft care for children in, even the most remote parts of India.
Every year we strive to reach the millions of children in India, and other developing countries across the world, who are still living with untreated clefts, in order to give them the power of a new smile. With your continued support, we look forward to creating even more in the years to come!"