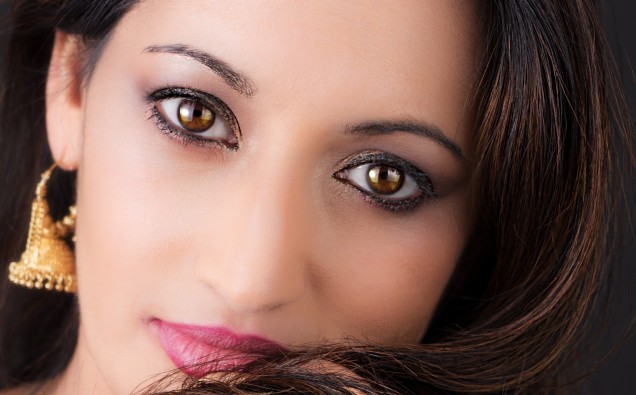 Our very own food columnist Sarah Ali Choudhury was delighted to be personally invited to two very prestigious events.  Sarah was invited as a VIP guest at the charity fundraising event "Lets Feed Brum Comedy – Rum Ball", a charity that raises awareness and money for the homeless people of Birmingham on 31st March 2017 at the Birmingham Botanical Gardens.
"Itihaas" head chef Pavneet Sangwan, and comedian and chef Hardeep Singh Kohli, join forces with Amerpersand's head chef Phil Bradley to produce a four course meal for 270 people who had gathered to support Let's Feed Brum. Alessio Franzese from London's famous "Rum and Sugar" was also on hand to provide a rum tipple for each guest to accompany each course. Raj Rana, the owner and Managing Director of Itihaas and also a director of "Lets Feed Brum"
From canapés of classic Mini Fish and Chips, to the finale of scrumptious Jaipur Mess, the night was full of delicious food that presented beautifully to every single guest. The night also wasn't short of its entertainment, with former BBC Masterchef finalist and comedian, Hardeep Singh Kohli, presenting the evening, and complementing each course with his famous Scottish wit.
Homelessness isn't a choice and it can happen to anyone, at any time. A lot of the stories we hear from those on our streets are completely heartbreaking, with most citing unemployment and loss of family and friends as the catalyst for their current situation.  The total raised on the evening was an extraordinary £10,475 with incredible gifts such as yacht cruises and 5 star hotel breaks.
The event was a sell out and enough money raised to provide almost 4,000 sleeping bags or 780 five-litre flasks that would provide over 9million hot drinks a year.
Sarah Ali Choudhury was so moved by the stories that she encountered and in her bid to raise awareness in the South of England she is currently looking into working alongside Ben Rafiqi to build her own charity in the near future "Lets Feed Bournemouth".
"This was a brilliant opportunity for me to meet with the amazing Mr Rafiqi who is such a warm and charitable individual.  I am excited to be working with him on future projects."
Sarah Ali Choudhury was personally invited to the Launch of The International Indian Chef of the Year ​Competition and Awards Launch on 18th April 2017.
The prestigious event was held at the Jubilee Room in the House of Commons, London, organised and founded by the Celebrity Chef and Curry King Mr Tommy Miah from Edinburgh.
This unique long-running competition has provided a pathway to success for ambitious cooks since it was founded in 1991 to promote innovation and quality in ethnic cuisine. Expert cooks prepare to prove the excellence of their ideas and practical skills and compete with half a dozen others by cooking their ideal meal under scrutiny of expert judges can earn a world title.  Virgin Trains has announced it will partner with the International Indian Chef of the Year Award, which is now in its 26th year. The award, which celebrates the cuisine of India and is open to chefs worldwide.  The partnership will see Virgin Trains welcome the awards' finalists onto one of its revamped east coast services later this year for the final judging event. Judges, including former Scottish First Minister Alex Salmond MP, will sample dishes created by the finalists between London King's Cross and York, in advance of the awards ceremony on October 9, 2017.
The competition is expected to attract up to 20,000 entrants.
Sarah tells us "It was an honour to be invited to such a prestigious event and a wonderful opportunity to meet Mr Tommy Miah.  I am excited about the upcoming event and encourage Indian Chefs to come forward for this competition".
Spicy Fish Fry Recipe by Sarah Ali Choudhury
3 Talapia fish (washed and cut into small pieces)
2 shallots (finely chopped)
2 tsp mustard seeds
10 fresh curry leaves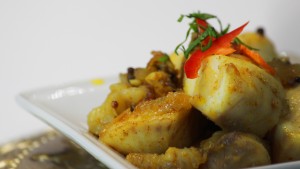 Quarter tsp Tumeric powder
1 tsp coriander powder
1 tsp Garlic powder
Half tsp paprika
2 tbsp olive oil
Half tsp salt
Fresh chilli (optional)
Coriander for garnish
Heat oil in a pan and put in the curry leaves and mustard seeds.
When seeds pop add the shallots.
Then add all the spices and salt.
Add 2 tbsp water and cook on a slow heat.
Add fish and stir well being careful not to break fish. It's a delicate dish!
Stir regularly and add another 2 tbsp water.
Once fish cooked through (about 7-10 mins) dish is complete.
Serve and garnish with chilli and coriander.