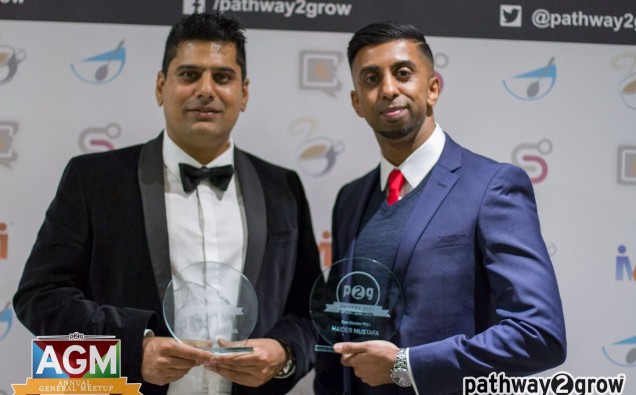 The inaugural Pathway2Grow Annual General Meetup was a remarkable event. As members of all our platforms and networking events were brought together, they collectively celebrated the achievements of their business associates and friends.
The evening kicked off with award winning illusionist and magician, Craig Petty. Who as well as sharing some tricks up his sleeve, provided attendees with sound business advice. Craig discussed how magic can be implemented into any business, to increase further revenue and sales. His insightful definition of 'show business' explained how focusing on business is just as paramount as focusing on 'the show'.
Our host for the evening was 'Thanyia Moore' who kept guests entertained throughout, and introduced the founder of Pathway2Grow, Safaraz Ali, onto the stage. Following a heartfelt welcome to all the attendees, Safaraz thanked the community for their continued support in making the organisation a success. Special thanks were offered to his team and the directors of the networking groups, for volunteering their time to organise and manage consecutive events.
The night was drawn to a celebratory close, as the winners of the P2G Awards were announced. As well as recognising the stand-outs from each pre-empted category, the Pathway2Grow team also presented Mr Nazir Awan with a highly-deserved 'Lifetime Achievement Award'.
This was in light of his massive contribution towards the organisation, and for aiding businesses across the region for over the past three decades. The award was presented by Dipak Shelat and during his acceptance speech, Mr Awan stated that he would never retire, and stressed upon the importance of hard graft, and paying taxes. His final message to the attendees was to work hard, and play harder!
Networker of the Year: Aftab Muhammed
Aftab Muhammed of Adams Estates received the well earned 'Networker of the year' award. After having attended a staggering 180 networking events last year, the socialite really has reaped the benefits.
The happy recipient says: "It is a great honour to be recognised for something I really enjoy and have a passion for.  I did not know what networking was even though I was in business for 17 years; no one helped me or gave me an opportunity to experience networking.
"I thought networking was for the elite businessmen from major cities like London and I didn't know that it would be part of my everyday life and it's really had a positive effect so far."
He adds: "In the last 16 months I have seen numerous benefits and business exposure which have generated more leads and enquiries and in turn lead to more business growth.
"Also, another benefit of networking is that it's very cost effective and it is very good for business growth, especially when companies don't have many resources to spend on marketing and advertising.
"Networking is a very good strategy for new businesses; it's the easiest way to receive the right exposure. It has really helped me to develop myself as a business owner and I'm now in a position to help other businesses thrive which makes me very happy."
Best Elevator Pitch: Haider Mustafa
Haider Mustafa of International Calls For Free & Yolo Travel Network was the proud recipient of the 'Best Elevator Pitch Award.' He is never short of words when it comes to expressing his passion for his own business. The former retail manager has been perusing his part-time business for a year and a half and is looking forward to working on a brand new project soon to be unveiled.
Haider adds: "I have been working as a retail manager for over 7 years at various UK high street retailers and have just recently left my full time job to continue promoting Free International Calls and Yolo Travel Network.
"I am so pleased to win the 'Best Elevator Pitch' award. Receiving this award is such an amazing honour. I am grateful for the recognition I have received for my work, as there were nominees with over 30 years of experience in their industry, which is a huge achievement for me.
"It's all about the belief and passion and having the mindset to never give up. I have been working part-time along my full-time job and it has surely paid off especially when i see people benefitting from the services i provide.
The services provided are free, it doesn't cost anything to get involved, and when I show people how to make the free international calls and also get the free holidays with nothing more than a land line – it feels great!
"It meant a lot and I'll be adding them to my awards that I previously received."