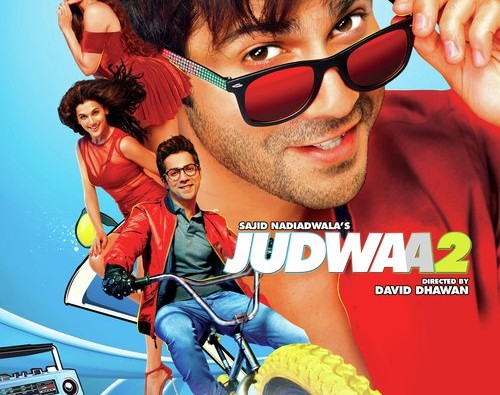 Tell us something about your memory from the original Judwaa. Varun: I remember I went for this trial and Salman Bhai was standing outside in shorts and a vest and I called him Salman Uncle. He got upset and said, 'call me Salman Bhai or I won't allow you inside the theatre.' And after that, I started calling him Salman
Bhai. I have a lot of memories from Mauritius when they were shooting the song 'Tu mere dil mein'. I remember him doing all the Jet Ski stunts but I was very young and I had no understanding of the cinema so I thought everyone has come for a picnic.
Varun, you're being called the next Salman Khan and now you are doing a remake of his film. Do you agree with this comparison? Varun: No, I think it's very unfair to him, to compare me to him. I am trying to be myself and Judwaa 2 was a great opportunity. I am playing a double role for the first time in my life. Honestly, I couldn't have done it if my father (David Dhawan) and Sajid Nadiadwala and many other great people weren't on my side. Playing a double is difficult for any actor and from my point of view I am going to put my head down and try to create two characters
that are entertaining and the people care for them. 'Raja' and 'Prem' are going to be two fresh characters and hopefully, we will live up to the original Judwaa.
Varun, will you have scenes with Salman in this film? Varun: I hope so. I haven't ever shared a screen with him. I'll tell you a very interesting incident.
One day before the shooting Salman Bhai sent a carton filled with various pairs of jeans to my house for Raja's character. He said that these pairs will fit well with the character of Raja and I am trying to use those pairs in the film.
Which character do you prefer, Raja or Prem? Varun:  Both. I am playing both
so I love both the characters.
David sir has made a lot of films in the past 25 years, mostly with Govinda and Salman. Which is your favourite film of him? Varun: My favourite film of
him is 'Swarg'. I really like that film, the story, and the emotions. Everyone knows him for comedy but I think he treats emotional scenes very well and keeps it very real. Judwaa 2 also has emotions in the script and that will be really interesting. Wherever I go I keep meeting a lot of twins and it's amazing to see their bond and that's exactly what I wanted to gather from real life and put it into the film in an entertaining way.
According to you how different are the love stories now from the ones back in 60's and 70's and which is your favourite love story? Varun: I feel love is love. We might be in a generation of technology where everything is moving so fast but you need to look into a girl's eyes and tell her face to face. Only then she'll know you love her when she sees it in your eyes. That's what I believe in. That's the love I believe in. I don't think you should send a Whatsapp the message saying 'I love you'.
Varun, you will be compared to a huge star. Anxiety? Varun: I am not thinking about it. You all keep reminding me about it, thank you.(laughs) Obviously, there is pressure but it's a good thing that there are expectations. I would've been in trouble if there were no expectations. I want people to expect and say, 'if his film is coming then there is going to be entertainment'. As an actor when I do a film I do it for the audience.
I want to entertain the audience and I only have that thought in my heart. I am not thinking about the rewards I am going to receive by doing films. Hopefully, people will
like 'Raja' and 'Prem' and they'll like Judwaa 2.
How do you celebrate Valentine's Day? Varun: I celebrate it with a girl (laughs). This time I was promoting 'Badrinath ki Dulhania'. All-time favourite love story film.
Varun: I love 'Titanic'. It's something I saw as a kid.
Varun, you are loved by the children as well as the youth and Judwaa (Twins) as a franchise is very popular amongst youth and the film escalated Salman Khan's fan base in the youth. So how excited are you to take this franchise forward and are you expecting your fan following to increase after the release? Varun: Honestly, when the original Judwaa was released, I was a child. I would love watching Salman Bhai in the songs, the dance with Rambha and Karishma Ma'am. I enjoyed the entire package of the film; it's one of the films of him (David) I watched as a kid. I remember some of the best times I've had with my family or with my cousins, with my friends, I've gone to the theatre. I used to go to the 'Chandan Theatre' and the balcony tickets were sold at RS. 80 and a beverage for R. 10 and I would go with samosa's (snacks) and I would watch films and be like, 'this is the world I want to be in. I want to go into that world and those films would transport me there'. So that's the idea with Judwaa 2.