 By Aneesa Malik
Former five times kickboxing world champion turned successful business entrepreneur Ali Jacko is set to take the music industry by storm with his debut single release 'Give My Love A Brand New Name' on the record label LBE Music Group.
The love song is already receiving praise from big names in the music industry and features one of the biggest budget music videos ever delivered by a British Asian artist, which features a Supermodel model and TV personality Jodie Kidd. The eye-catching video has been shot at interesting locations around London including legendary Club Café De Paris and a private jet.
We caught up with Ali following the launch, to explore his reasons for diving into the music industry, as well as finding out how it feels to be the first British Asian rock star!
1) What was the inspiration behind your new single, 'Give My Love a Brand New Name'?
To be honest I've never sang a day in my life and I'm 46 years old. I started singing in August; I recorded and completed the video in about two months. I've not had any vocal training or anything; in fact when I used to do interviews for my fights, I used to hate the sound of my own voice! When I told my daughter I wanted to start singing, she just thought I've lost my marbles. To be honest I wanted to impress my girlfriend, so I decided I wanted to do a couple of cover songs. So I got a vocal coach, who told me I couldn't sing, but I could possibly sing something. Within a week I recorded two songs. I wanted to sing a Brian Adams song, 'Look into my eyes', but my vocal coach said I couldn't sing it. The minute he said I couldn't, there was something in me that said, 'Well if he said I can't, then I'm going to definitely try'. He said it would take me six months to sing this song. I went back into the recording studio two days later and I sang it, almost like him. It was after that I went and started writing my own music. I've written all 15 songs on my new album.
2) Your album has a very rustic/rock feel to it. Was that intentional?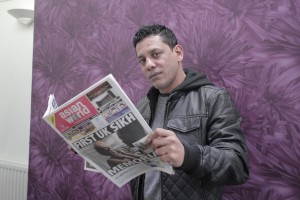 To be honest, I have a pretty deep voice anyway. For this particular single, I chose to sing it in a very rock style, intentionally. I recently discovered that my voice can go over four octaves, so my voice is very versatile. I can't even recognise my own voice anymore.
3) How has your family reacted to this change in career?
A couple of family members aren't talking to me- believing I'm a disgrace to my religion. But we're living in a society where you have to follow a certain culture. But my mum loves what I do. My entire home country of Bangladesh and my local community is really excited for me.
4) You were the former world champion in kick boxing. How does it feel to put your belts up?
I retired in 2002, so at this moment in time, I'm training this boxer to become a professional. So I'm in coaching and singing. It's a big change; I never thought I'd be in this position today.
5) Do you have any plans to follow the Bollywood route?
I am really close friends with Salman Khan, so it may be likely that one of my songs is featured in his next film. A lot of top directors have listened to the single and really like it, so let's see what happens next year.