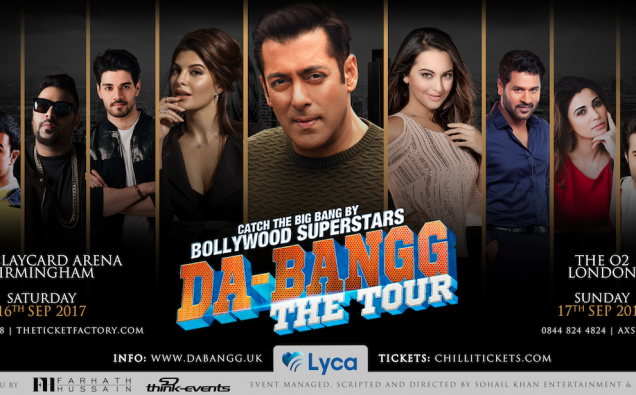 Wednesday 12th July 2017, London, UK – Bollywood megastar, Salman
Khan, is set to descend on the UK and wow audiences onstage after 12
years, with a galaxy of stars in the eagerly-awaited, live event of the decade,
DA-BANGG THE TOUR. Taking place at Barclaycard Arena, Birmingham
on Saturday 16th September; and The O2 Arena London on Sunday 17th
September; the stage extravaganza is presented by Lyca and brought to UK
audiences by Farhath Hussain and Think Events.
As part of a global tour and already having amassed sellout dates in Australia,
New Zealand and Hong Kong, DA-BANGG THE TOUR is on its way to the
UK, presenting the undisputed King of the Bollywood Box Office, Salman
Khan, alongside a host of dazzling luminaries including silver screen starlets
Sonakshi Sinha, Jacqueline Fernandez and Daisy Shah; superstar of the
South, actor, dancer and director, Prabhu Deva; chart-topping rapper
Badshah; rising star Sooraj Pancholi; evergreen music artist Kamaal Khan;
and hosted by popular television host Manish Paul.
DA-BANGG THE TOUR is event managed, scripted and directed by Sohail
Khan Entertainment and JA Events, who have conceptualised and created
the world's biggest Bollywood live show to date, enriched with top-scale
technology and production. Ready to present UK fans and audiences with a
once-in-a-lifetime experience this autumn, DA-BANGG THE TOUR will also
welcome an impressive troupe of 120 dancers, technicians and creatives from
India in the most slick and superior Bollywood stage show to date.
Says Allirajah Subaskaran, Chairman, Lyca Group, ""It is with great honour
and pride that Lyca will host Salman Khan and his amazing Bollywood
showcase in the UK this summer. Celebrating the best of song and dance
from Bollywood, the events taking place in Birmingham and London are both
a testament to the UK's love of Bollywood and Lyca's commitment to bringing
our customers first-class art and entertainment from around the world."
Says Farhath Hussain, "We're delighted to be bringing the biggest star of
Bollywood, Salman Khan, to perform onstage in the UK for the first time in 12
years, alongside a stellar lineup of artists and talent in this huge-scale
production. DA-BANGG THE TOUR being the biggest live event of the
decade, audiences and fans can expect a once-in-a-lifetime opportunity, with
a buzz building around the concert for months now."
DA-BANGG THE TOUR
Barclaycard Arena, Birmingham – Saturday 16th September
The O2 Arena, London – Sunday 17th September
Tickets go on sale on Friday 21st July, 9.00am via:
www.chillitickets.com
www.axs.com
www.theticketfactory.com
For more information, visit: www.dabangg.uk