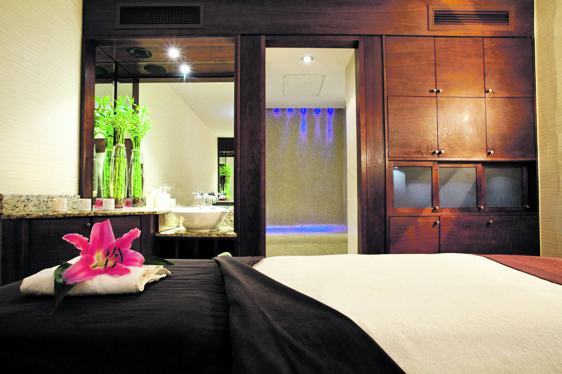 Jersey, which is the largest of the Channel Islands, sits just off the coast of France. Known for its breath-taking cliff sides, which glisten off the picture perfect sandy beaches, Jersey is a great option for a quick getaway. It has a flight time of around 1 hour, but can also be accessed by ferry.
After a short journey from Birmingham airport to Jersey airport, my partner and I caught a taxi to the Club Hotel and Spa, which was a pleasant 15 minute drive. We had the opportunity to soak in the surrounding views, which included a vivid blue ocean and the marina.
Once we arrived at the hotel, we were warmly greeted by the hotel staff who were more than willing to help us with our luggage and get acquainted with the hotel. We were provided with a short tour of the hotel and its many facilities, which we were eager to make use of.  The hotel had a warm, yet modern feel surrounding it. It had merged modern furnishings with a tender and hospitable colour palette, which reflected throughout the hotel.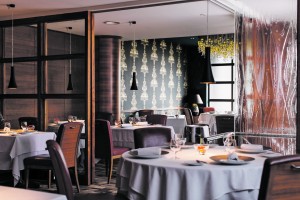 We were escorted to our suite, which was very particularly spacious. It came with a large and inviting bed, with a separate desk space ideal for working or getting ready. The bathroom was another delight to walk into. There were separate sinks, ideal for anyone travelling in a pair, and more importantly, a separate bath and shower-creating the opportunity for further relaxation.
Once we were refreshed, we headed downstairs to the Michelin star Bohemia restaurant for our dinner reservation.  After looking through the extensive menu, I opted for the pescetarian menu, whilst my partner went for the vegetarian option.  The menu consisted of 8 courses each, all of which came out promptly and fresh.
To start, we had Beetroot- Verjus and Hibiscus, which had a mellow and fruity flavour, followed by Butternut and Parmesan- Nasturium- Quail Egg. The butternut was strikingly sweet, whilst the quail egg was soft and creamy. The parmesan was a little too heavy for my liking, but complemented the butternut nicely. Next, we had Oyster- Cucumber- Dill- Caviar, which was a surprisingly wonderful combination. The caviar had a rich flavour, which was balanced by the cucumber. The Crab Custard and Tart- Pineapple and Coriander were my personal favourite. The crab meat was tender and succulent, whilst the tart was just right.
The following two courses consisted of Scallop- Celeriac and Truffle- Apple and Smoked Eel Sea Bass- Mussels and Clams, Kohlrabi and Vanilla, Sea Herbs. Again, the sea bass was cooked to perfection. It was succulent and warm, and the accompanying sauce was a delight.
For dessert, I was treated to Apple and Blackberry Texture. The blackberry had a gorgeous zesty flavour which came through very strong. There was an array of textures on the plate that were crunchy and soft, sweet and sour. It made for a delicious end to the meal.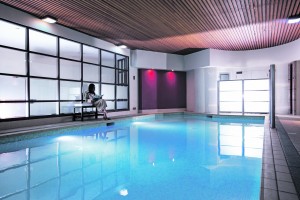 There was careful attention to detail in the presentation of each dish with the colours of the different ingredients providing a welcoming surprise. The dishes were all unique and experimental, some of which may not be to everyone's taste palette, but it is definitely worth trying.
Following a very restful night's sleep, we went down for breakfast, where we opted for the continental. There was a great selection of cereals and croissants to choose from with tea and toast also included.
It was then time for our treatments at the on-site spa. I requested the aroma- therapy deep infusion massage, whilst my partner chose the deep tissue massage. Both treatments were 50 minutes in total. The therapist was very informative and welcoming; talking me through each process of the massage. It was very therapeutic and the therapist was very thorough in her approach. She made a point to concentrate on the more tense areas, which felt very healing. We both left, feeling as light as a feather, and ready to continue more relaxation. We were kindly taken to the 'Relaxation Room', where we could unwind, relax and even listen to music.
After some time, we decided we wanted make use of the other extensive spa facilities. So we decided to take a dip in the pool, which had an integrated Jacuzzi. Unfortunately, the water in the Jacuzzi was not as hot as we anticipated and we soon retired from this into the Salt Room, which was to our liking.
It was soon time for our afternoon tea, which took place at the Bohemia restaurant again. We opted for the 'Traditional Afternoon Tea', where we were presented with around 12 types of teas to choose from. The selection was inspiring- from Jamaican Rum to Chamomile. We opted for the traditional chamomile, which was sweet and calming- aiding my quest for relaxation.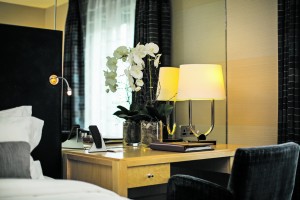 The tea was served with a variety of sandwiches including tuna and sweetcorn, salmon and cream cheese and cheese and tomato. The cakes and scones were particularly a nice treat. Clotted cream and strawberry preserve accompanied the scones, which were soft and warm, and felt delicate in the mouth. It's safe to say my partner and I both over-indulged with the cakes, which resulted in going for a stroll to explore the surrounding area.
Within a five minute walk, we stumbled upon the local town centre, which had a great selection of independent stores alongside all the usual high-street brands you would expect.
On our final day, we decided to make a pit-stop on the way to the airport and came across the St. Brelades bay. It was a delightful little sandy beach, perfect for long walks.
Overall, we had a very peaceful and relaxed stay at the Club Hotel and Spa. The service was second-to-none and couldn't be beaten. It was a great short break and I would recommend anyone take the opportunity to visit this quirky island.