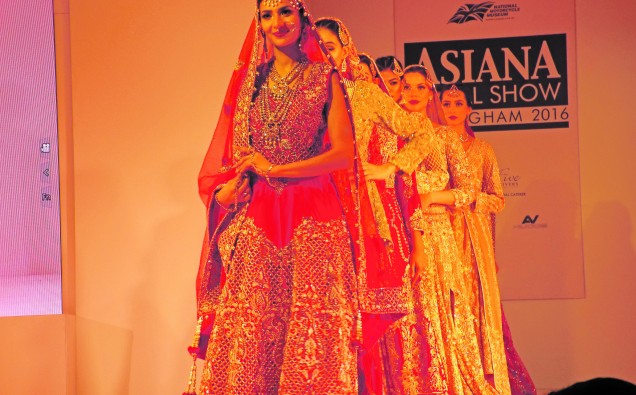 December saw one of the most anticipated bridal fashion shows take place and with a wide array stalls, elegant displays of fashion and select celeb guests, it certainly wasn't a show to be missed.
Amongst the celebrities was world-wide style icon Faryal Makhdoom, who made her debut in front of adoring fans on the Asiana catwalk in 3 beautiful Bridal gowns. The beauty expert even dropped by to answer a few questions on stage.
As the most photographed Asian bride in the world, the Asiana Bridal Show made the perfect platform for Faryal's first runway appearance.
Speaking before the show, Faryal expressed her excitement. She said: "I was really excited about walking the ramp for Asiana, but at the same time I was very nervous too. This is a live event, so there are no retakes or editing. I've never taken part in a fashion show before, but I'm always ready for a new challenge,"
"I love fashion and my fans adore seeing me in the latest designer-wear, especially in Pakistani and Indian outfits. Asiana Magazine is a global fashion leader, so I knew my debut dresses would be awesome."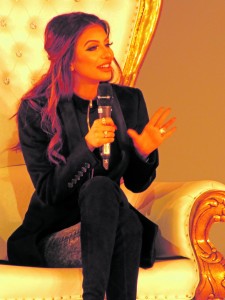 Asian World were on scene to ask Faryal some quick-fire questions.
You've just come back from Dubai, what did you get up to?
It was my first time going to Formula 1, my husband's done it a few times we had a really good time. There's some really cool names out there. I had a great break, but now were back in the UK and back in the cold!
How did you find the move from New York to the UK?
I think when you're so in love you'll move anywhere and after the love dies down it sinks in a bit.
What where the major changes when you moved over to the UK?
I think the biggest thing was leaving my family behind, being the only daughter, it was very hard to let go of them.
Also, coming into a bigger family, Amir has a really big family, my parent raised me like a princess, being the only daughter, and I came to a lot of responsibility.
What is it like living with the in-laws?
It was really hard living with in-laws. There was a huge culture shock, but my husband was so supportive and he's always been there for me so I think it made things much much easier.
I think I was only a little girl that grew up really fast, getting married and moving to a different country but Alhumdulilah I'm so happy now I don't want to go back to America. I get so much love out here, it really feels like home now.
Do you jet back and forth a lot?
Me and my husband don't really spend too much time in the UK, we're here for a few months and then we fly out to the US because Amir trains out there. Maybe that's why I don't miss home as much, I get to see my family, I get to see my parents and my country again.
We're always in Dubai as well, we go from UK, America to Dubai, my husband wants to move there, but England is definitely home now.
You spend a lot of time in male dominated environments, how do you cope, being a girly girl?
Is funny because growing up I had one brother and no sisters so I was a tom boy. As I got older I became such a girly girl, I've always wanted a sister so when I got pregnant I prayed that I would have a girl so I could have that bond with her. It's so cool because when go out people actually think she's my sister.
You've obviously got a passion for makeup, if you could only use one item of makeup for the rest of your life, what would it be?
Probably mascara. I like my lashes to be long and thick.
As well as Faryal's fashion debut, visitors were treated to some insider know-how by YouTube makeup artist and busy Mumpreneur Zukreat, who graced the catwalk to show the audience how to attain the perfect obre lip.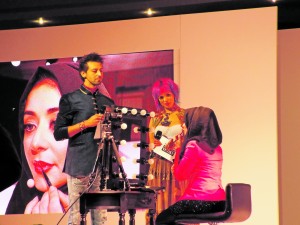 We caught up with the YouTube makeup sensation to ask about her journey so far.
You fall under the new movement of the 'Mumpreneur' how did that come about?
A few weeks ago, I was approached by the Muslim Lifestyle Expo, I guess there's a new category of women who are mums who also want to have a career as well.
They approached me and said 'we regard you as a mumpreneur so we'd like you to be part of our panel and to provide inspiration to future generations.'
So, it's something that just naturally happened I guess. I'm a mom of two now so I've just been juggling the whole career thing.
I guess I was one of the first Hjabis in the make-up scene as well so it may help pave the way for Muslim women who wish to start a career.
What was it like being one of the first Hijab wearing YouTubers?
Its' always difficult because we are a minority, so when you're out there on YouTube, you're going to interact with people who can relate and aspire to be like you, and because we are a minority we're still having to break those boundaries and those stereotypes. I wanted to do that in a natural organic way, so if I do a vlog and they see me and my family doing exactly what they would do, it could challenge those stereotypes. I haven't received too much hate, I've been on the good end of YouTube.
What advice would you give to women wanting to break into YouTube?
It is a lot of hard work, so be prepared to put in the hours. I just recently had my little daughter and I made the conscious effort to not be on YouTube as much, I can always do the social media side of things, but I don't want it to completely take over my life and it can be quite consuming.
Understand that it does take time, but don't feel like it's the be-all-and-end all. You don't have to break YouTube of get lots of followers, let it grow organically and stay true to who you are.
What are your favourite videos to share?
It's hard sometimes because when you're making a video to educate people, like make-up tutorial, your personality doesn't come across as much, so sometimes I like to make fun videos or vlogs so viewers can see a bit more of your life behind the camera.
I've got a lot of vlog footage that I've yet to edit, so I'm going to go through that and get some videos on my channel.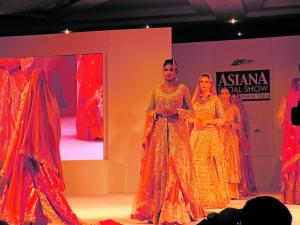 Your daughter must be an expert with make-up already?
I want my daughter to do the make-up challenge because she already picks up the brushed and puts them to my eyes, she's learnt by seeing me do it. I can't wait to see what she can do with some actual shadow.
She's very creative and she loves to draw, so I can tell there's some potential.
What would be your holy grail make-up product?
That's hard! I think my holy grail product would be my eye liner. Its user friendly, you replace the cartridge once it runs out, you don't have to worry about it drying out or getting the nib back into the pot. It's very easy and very different from the other products out on the market.