 iPad has always offered a uniquely simple yet immersive experience. And now with its expansive 12.9-inch Retina display, nearly double the CPU performance of iPad Air 2 and refined Multi-Touch technology, iPad Pro adds another dimension to that experience. It's not just larger. It's an iPad that lets you be more creative and more productive — at a whole new scale.
With 5.6 million pixels, iPad Pro features the highest-resolution Retina display of any iOS device. The 12.9-inch screen makes everything you do — editing 4K video, designing presentations, running a business — easier, faster and more engaging. And the Multi-Touch subsystem has been re-engineered, expanding the ways you can interact with iPad.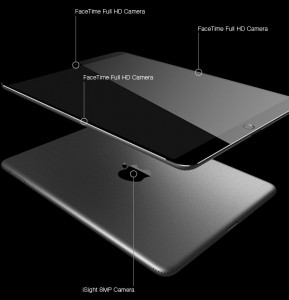 At the heart of iPad Pro lies the new A9X, our third-generation chip with 64-bit desktop-class architecture. It delivers up to 1.8 times the CPU performance and double the graphics performance of iPad Air 2. So even the most demanding apps run effortlessly.
Even with its massive display, iPad Pro has an astonishingly slim and light design — just 6.9 millimetres thin and 713 grams. Yet thanks to the strong unibody enclosure, it feels well-balanced and sturdy. For all its capabilities, the most surprising thing about iPad Pro may be how easily it seems to disappear in the hand.
iPad Pro connects to fast Wi Fi and mobile networks so you can download films, browse the web and share documents from virtually anywhere. And when you're not in Wi Fi range, the super-fast Wi Fi + Cellular model supports 4G LTE.2 And the built‐in Apple SIM helps you stay connected when you're on the go with short-term data plans available on iPad Pro.