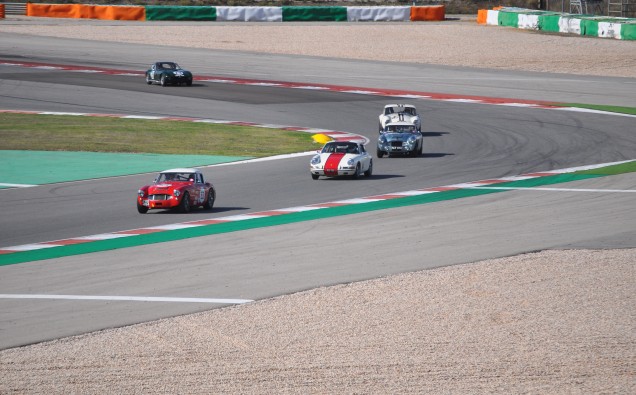 We are delighted to announce that the 6th Autumn Classic Historic race meeting will be held on Saturday 7th October 2017 with the addition of the GT & Sports Car Cup!
One of the most popular meetings on the prestigious historic racing scene, the circuit's 'Autumn Classic' receives a boost this year from the addition of the GT & Sports Car Cup. This 'invitation only' series brings some of the best pre 1966 GT and sports cars from all over Europe, including lightweight Jaguar E Types, Ferrari 250 GT Berlinettas, Alfa Romeo Giulia TZ2s and Morgan Plus 4 SLRs. The addition of the 'Cup' to the programme categorically seals the event as a 'must do' for all classic race enthusiasts.
Long standing supporter of the Autumn Classic, 'Bristol Forklifts' is joined this year by David Hathaway Transport, Silicon Hoses and Spencer Lane-Jones. Our newly launched website has all the details, including the mouthwatering displays of more owners and enthusiasts clubs than ever before, which this year include the 1970s lap record holding Formula 5000 McLaren. In addition to the spectacular action provided by the eclectic mix of races, visitors will be treated to parades and on-track demonstrations of some priceless pedigree cars from the golden era of motorsport.
The circuit has been inundated with glowing feedback and testimonials about the event previously, with a common consensus that the organising team have got the format absolutely spot on – so Castle Combe Circuit is delighted to announce that the tried and tested model will be rolled out for the 6th time this year! Ken Davies, Chairman of the Castle Combe Racing Club, states "The Autumn Classic has cemented itself into the UK's Historic racing calendar since it first ran in 2012 and each year its portfolio of close racing together with the mouth-watering selection of iconic display cars, increases in variety and quality. Illustrating the rich heritage of the circuit is the list of the household names of motor racing who have successfully raced at 'Combe' over the years including Stirling Moss, Mike Hawthorn, Damon Hill, Ayrton Senna and Nigel Mansell. "