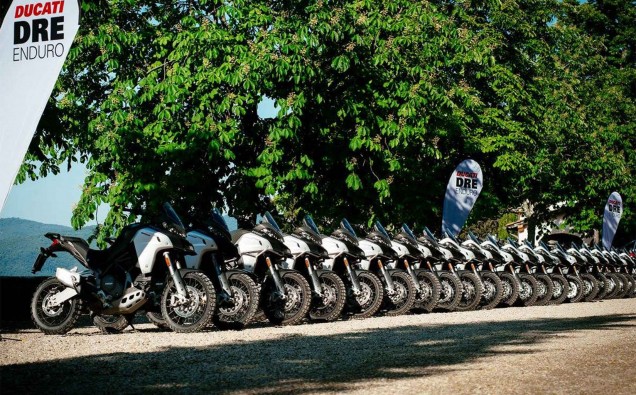 Learn and improve safe off-road riding skills whatever the terrain on the Multistrada 1200 Enduro and Multistrada 950
A program full of new aspects giving a unique experience that can also be enjoyed with friends and family
Borgo Panigale, Bologna (Italy), 17 May 2017 – DRE Enduro Academy, Ducati riding school dedicated to off-road riding, returns for 2017. With courses created to let participants learn to handle any type of road and terrain in complete safety, the Ducati Riding Experience (DRE) Enduro Academy helps students learn or improve the proper riding techniques and skills needed to deal with off-road routes under poor grip conditions, thereby increasing their experience and sensitivity translating into safer riding on asphalt.
The new edition of the DRE Enduro Academy will take place over 8 dates. For the first time this year the Multistrada 950 will join the fleet of Multistrada 1200 Enduro bikes. The new Multistrada 950 will give the participants a chance to try this smaller, more accessible and versatile bike.
The DRE Enduro Academy courses take place under the leadership of experienced riders and qualified instructors led by ex-Dakar rally rider Beppe Gualini, the technical director of the event. The DRE Enduro Academy courses are designed for everyone, from novices who want to increase their confidence and bike control, to expert off-roaders who want to learn from the experience of the best riders. Participants follow exercises to practice the right techniques for overcoming obstacles, emergency braking on poor grip surfaces and learn how to handle the weight of the body on uneven road surfaces like the "washboard" terrain typical of sandy deserts.
All the bikes supplied to the DRE Enduro Academy participants are equipped with Ducati Performance components for more extreme use, from the Ducati Performance bull bars by Touratech, to Pirelli Scorpion Rally tyres as well as type-approved Termignoni silencers and more.
All the participants of the DRE Enduro Academy can hire an entire set of technical clothing, in collaboration with Arai, Scott, UFO, Spidi and TCX. Technogym is again partner of the DRE Enduro Academy, supporting the physical preparation to react better while riding.
The course will be held in the prestigious Nipozzano Castle and its surrounding lands. In this splendid setting all DRE Enduro Academy participants will also enjoy tasting the best traditional Tuscan dishes and typical wines produced on the estate.
The DRE Enduro Academy also welcomes friends and family, who can choose to spend the day exploring the historic village of Nipozzano, visiting the wine cellars and enjoying the panoramas thanks to excursions in the Tuscan hills. Alternatively, they can reach riders in the off-road training areas with the new Volkswagen Amarok.
For more information on the DRE Enduro Academy and to subscribe to the 2017 edition, click on www.dreenduro.ducati.com.