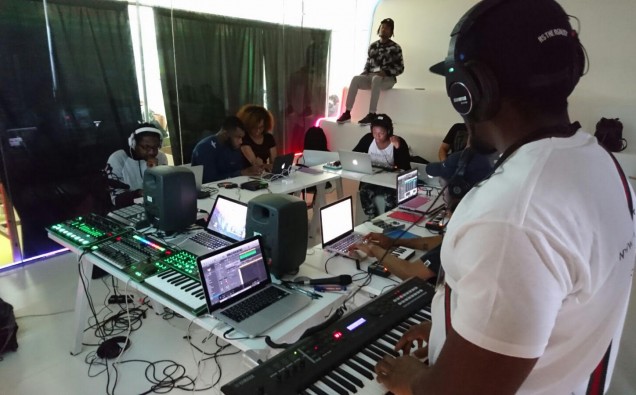 DESI MOVES – the award-winning youth arts participation programme celebrating streetwise South Asian sounds and styles – is back this summer as part of UTSAV: the Year of South Asian Culture.
How do young Brummies of South Asian descent feel about the way their city is depicted in the national media? How can they respond creatively when ex-EDL frontman Tommy Robinson and others make a film about the 'Islamification of Birmingham' in Sparkbrook?  How do they feel about BREXIT? About the opportunity to be creative in Birmingham?
DESI MOVES launched with two Q&A's featuring Birmingham's top GRIME artists; DAPZ ON THE MAP and JAYKAE in Aston and Sparkbrook. DAPZ ON THE MAP gave a surprise performance of a track from his new EP, 'Champion Champion'. BBC-playlisted JAYKAE discussed his online public debate with Tommy Robinson, and when he took all his fans out for a NANDOs meal after a gig.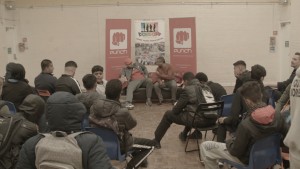 DESI MOVES is now moving into a season of no-cost music-based creative training programmes, pop-up events, exhibitions, and hands-on creative making opportunities exploring where South Asian culture meets the street. Dozens of young people have already signed up to free music workshops at the LIGHTHOUSE in Aston (Wednesdays) and CONCORD in Sparkbrook (Mondays and Tuesdays) weekly until the end of June, just in time for live performances in July at the Birmingham Mela.
DESI MOVES 2017 also features creative collaborations with FLATPACK PROJECTS and Birmingham-based filmmakers BVU. DESI MOVES is being documented by local photographer SAFFIYAH KHAN forming the basis of a unique new touring exhibition.
PUNCH CEO, AMMO TALWAR MBE said, "Birmingham is home to many vibrant South Asian communities, and one thing that brings the youth together is our music. In the last ten years, London has proved it is the home of GRIME. DESI MOVES will prove that Birmingham is the capital of DESI. We've heard the sound of London E3; this year it's the turn of Birmingham B20. Making great music and art and with all the city's communities is our response to the EDL and other haters."
 UTSAV in 2017, Birmingham will be celebrating Utsav, Year of South Asian Culture and the contribution those communities have made to the city. Utsav, meaning festival/celebration, was officially launched on 18 January and will feature a wide variety of professional and community events and activities throughout the year
DESI MOVES 2017 is being produced by Birmingham-based PUNCH RECORDS, producers of last year's GALLERY 37 youth residency programme. With 300 young people contributing to a showcase performance seen by over 2.5k people, GALLERY 37 was one of the highlights of the city's year of arts and young people – YAY16.
PUNCH-produced youth arts programmes like DESI MOVES are known nationally for their innovation, most recently a winning prestigious national ARQIVA social action bronze award last year. DESI MOVES 2017 gives young people the chance to create and perform, while learning important skills from positive role models.