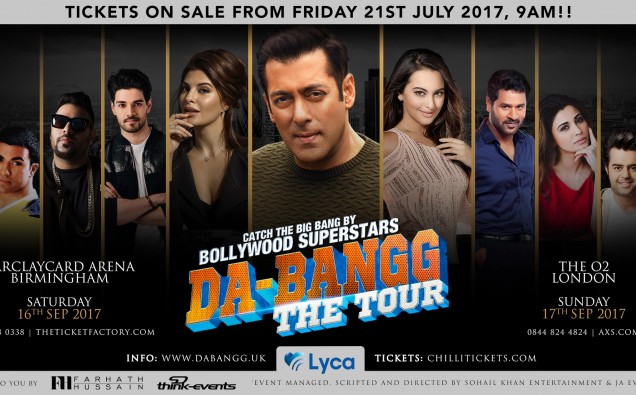 By JAI KUMAR

The Sepember sensation, Dabangg, the Tour, comes to London and Birmingham.  One of Bollywood's most loved stars, Salman Khan, is to perform at the O2 and Barclays arenas in what is expected to be the most entertaining concert of the decade.
Brought to the audiences in Britain by the International Bollywood impresario, Farhath Hussain, the show is said to be sheer heart- heartening extravaganza the kind of which is rarely seen in Europe.
Farhath is responsible for bringing to the UK some of the most thrilling star- shows ever seen, in what is the world's second largest consumer of Bollywood films and music outside of India.
The Dabangg show expects to be a night of wondrous stars and thunderous applauses.  And the wonder of the starry night is Salman Khan who will perform to some popular dance songs from his hit films with a back-up of breathtaking visuals and spectacular staging.
Not since the frenzy that was stirred with the Amitabh Bachchan concert over two decades ago in Wembley, has a stage show again inspired such drama and delight. A dramatic dream-team of popular actors, passionate singers, creative choreographers and innovative musicians, all set to make it a seductive spectacle of Bolly bonanza.
Giving company to the raging screen icon, 'King Khan' will be a bevy of Bollywood A-movers and shakers- particularly the young screen goddess of today's Indian films, Sonakshi Sinha. Other artists
include Jacqueline Fernandez and Daisy Shah; the widely admired rapper Badshah; the new actor Suraj Pancholi; the musical supremo Kamaal Khan; and the show's host, Manish Paul, a TV star.  DA-BANGG will also feature a talented group of 120 dancers and technicians from India who are expected to transform the o2 arena into a spectacle of magic, music and, Yes, Masti all the way.
As a dream treat for the UK fans, Farhath is exclusively bringing the legendary dancer, Prabhu Deva, who will  Dabangg his way into the Asian hearts with his reputed dance moves replete with amazing
grace and glamour. As a dancer extraordinaire, he  will peform to the latest hit musical beats and, for sure, people would be drawn to the edge of their seats.
Speaking about The Dabangg, the Tour,  and his return to the UK stage, Salman said: 'I am truly happy to get a lot of love and support from people around the world. This is our way of giving this love back and thanking you all. I am super excited and looking forward to being in your cities along with my co-stars. We promise you an evening of love, laughter and entertainment. So mark your calendar and be there."
The company behind DA-BANGG, THE TOUR is Sohail Khan Entertainment and JA Events, who have written and directed the show that is now hailed as the world's most entertaining and exciting Bollywood stage show, and which boasts of technical excellence and powerful production.
The concert is co-promoted by Think Events with who Farhath has collaborated over the last five years to revolutionise Bollywood shows in the UK.
Allirajah Subaskaran, Chairman, Lyca Group said: " Iam pleased that Lyca will host Salman Khan and his amazing Bollywood showcase in the UK this summer. Celebrating the best of song and dance from Bollywood, the events taking place in Birmingham and London are both a testament to the UK's love of Bollywood and Lyca's commitment to bringing our customers first-class art and entertainment from around the world."
Said Farhath: "Entertainment doesn't get much bigger than Dabangg.  Bollywood's finest artists will grace the worlds most celebrated concert venues, the o2 in London and barclays arena in Birmingham. I am delighted that Bollywood's  global star- phenomenon, Salman Khan, is coming for the  first time in 12 years to the UK, to perform in what will be an absolutely mesmerising and power-packed show. His Fans are surely in for a once-in-a-lifetime experience. It is a historic event, not to be missed!"
Yes, Yes not to be missed, because you are about to witness sensational sights and sounds- all bursting with the Beauty of Bollywood.
Dabangg, the Tour: Saturday 16th September 2017 at The Barclaycard Arena,
Birmingham
salma pl put Farhath Hussain photo with caption. He is one who gives tickets.
just take the pics of salman and others. i ph. jai