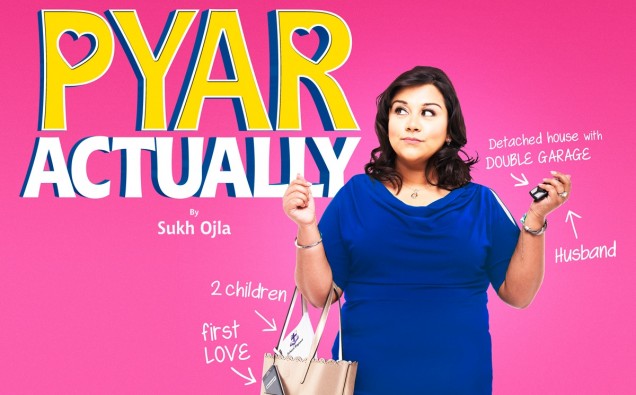 Rifco Studio and Sukh Ojla in association with Watford Palace Theatre present
PYAR ACTUALLY
Rifco announces new comedy Pyar Actually (Love Actually), written by Rifco Associate Sukh Ojla.
The small-scale production opens at The Woodville (Gravesend) on 29th September 2017 before touring to The Curve (Slough), Warwick Arts Centre, Watford Palace Theatre and Theatre Royal Stratford East.
Set in Gravesend, the play follows thirty-something Polly whose picture perfect life is interrupted when her first love Bali gets in touch 20 years later. Sukh developed the play, which explores themes of duty, love and missed opportunities, through a series of community workshops, readings and peer-to-peer mentorship as part of the Rifco Associates programme.
Sukh Ojla is a writer, actress and stand up comedian. Pyar Actually is her first full-length play. She won Monologue Slam with her self-penned monologue Settling, has written and performed stand up comedy for the Alchemy Festival, won the Make The Cut competition at the St James Theatre and recently performed at BBC Asian Network's Big Comedy Night at Watford Palace Theatre.
Rifco Associates is a two-year rolling programme for artists and creatives both early in their career and mid-career, supporting them to create a new piece of work or develop a new concept. This structured programme is about opening up access to a wider range of people working in theatre and celebrating the voices of British Asian contemporary artists both on the stage and behind the scenes.
Rifco Studio is Rifco theatre on a smaller scale. Offering the opportunity for new writing and developing artists to present work at intimate venues across the UK. The productions are shorter, with fewer cast members and minimal stage setting, but with the same quality, vibrancy and contemporary British Asian storytelling that audiences have come to expect from Rifco. With Rifco's yearly mainstage productions and the newly introduced Rifco Studio productions, the company will offer audiences with a year-round programme of diverse work.
Artistic Director of Rifco Pravesh Kumar directs Pyar Actually. He started the company in 1999 to make a different kind of theatre for a community that could not see themselves represented on English stages. Before setting up Rifco, Kumar worked extensively in Mumbai's film and television industry, as an assistant director and writer. His theatrical directorial debut was in 1999 with a UK tour of Bollywood – Yet Another Love Story, which opened to packed houses at The Riverside Studios, Hammersmith. He has gone on to achieve critical acclaim for Rifco's productions: Miss Meena & the Masala Queens, Laila The Musical, Britain's Got Bhangra, Happy Birthday Sunita, It Ain't All Bollywood, There's Something About Simmy, Airport 2000, Meri Christmas, Where's My Desi Soulmate?, The Deranged Marriage and Break The Floorboards. His first short film, Gods On Mountains was shot entirely on location in the Himalayas and was nominated for the Satyajit Ray Short Film Award in 2009. He was Associate Director on the musical Wah! Wah! Girls, which opened in the West End as part of World Stages London for the 2012 Olympics. He also writes and directs MummyJi Presents, a live theatre variety show and digital show, which was originally commissioned by The Space, a collaboration between the BBC and Arts Council England. Pravesh is currently working on a new musical for Rifco and leads on the Rifco Associate programme.
RIFCO
Over the last 17 years Rifco has gained a reputation for attracting a British Asian audience to regional theatres for the very first time. The work is vibrant, entertaining and ambitious and reflects and celebrates contemporary British Asian culture, society and experiences.
Rifco focuses on new writing and ambitious programming, developing new writers, nurturing young artists and creating new and exciting work, involving the community every step of the way.
The company is inspired by untold stories and under-represented voices, but most of all tells stories about a universal theme – the family. This is at the root of Rifco's success in connecting strongly with its core audience.
Productions have toured to venues such as Warwick Arts Centre, The Curve Leicester, Theatre Royal Stratford East, West Yorkshire Playhouse, Theatre Royal Windsor, New Wolsey Theatre, The Lowry, Oldham Coliseum, Queen's Theatre Hornchurch, Oxford Playhouse, Hackney Empire, Edinburgh Festival Fringe, NCPA Mumbai, Habitat Centre and DUCTAC Dubai.
Rifco's awards include Best Live Event – Break The Floorboards, Asian Media Awards 2013 and The People's Favourite Musical – Britain's Got Bhangra, Off West End Theatre Awards 2011.
Rifco are an Arts Council England National Portfolio Organisation and Resident Theatre Company at Watford Palace Theatre.
TOUR DATES 2017: PYAR ACTUALLY
The Woodville, Gravesend
29 September – 1 October
7.30pm, Saturday matinee 2.30 & Sunday 4.30pm
08442 439 480
www.woodville.co.uk
The Curve, Slough
5 – 7 October
7.30pm, Sat matinee 2pm
www.thecurveslough.com
Warwick Arts Centre, Coventry
13 – 14 November
7.45pm
024 7652 4524
www.warwickartscentre.co.uk
Watford Palace Theatre
15 – 17 November
7.30pm
01923 225 671
www.watfordpalacetheatre.co.uk
Theatre Royal Stratford East, London
18 November
3pm & 8pm
0208 534 0310
www.stratfordeast.com
Website: www.rifcoarts.com/shows/pyar-actually
Twitter: @RifcoArts
Instagram: @RifcoArts1
Youtube: RifcoArts1
Facebook: @RifcoArts1
Join the conversation: #PyarActually