 Award winning Punjabi and North Indian restaurant, Pushkar Cocktail Bar & Dining, which recently received a 2015 English Curry Award, was selected to represent Birmingham as the Curry Capital of England during National Curry Week 2015 (12th – 18th October). The Broad Street based restaurant is celebrating National Curry Week with a limited edition South Indian Menu running throughout the duration of National Curry Week and up until Sunday 25th October 2015.
The limited edition South Indian Menu consists of ten exquisite dishes inspired by the regions culinary favourites.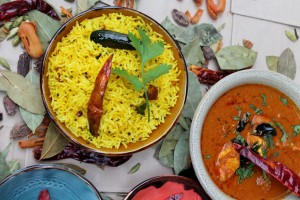 Pushkar's Creative Director Rai Singh, commented: 'Pushkar is known for its North Indian dishes but Indian cuisine is so diverse and this is a great opportunity for our diners to explore some different flavours and dishes from a very colourful Indian region.'
From Andhra Style Fish Fry and Kerala Fish Curry to a notoriously spicy Chettinad Style Chicken Fry and Mysore Chicken Masala, there's a wealth of mouth wateringly exciting South Indian dishes to choose from.
Pushkar's Sous Chef and creator of the South Indian Menu, Vinod Singh, said: 'I have previously worked in Hyderabad where I learned to cook South Indian cuisine which is very different to the Punjabi and North Indian dishes a lot of people are used to, and so I was very excited to bring these amazing flavours to Pushkar for a limited time. They've been months in preparation and I hope they impress Birmingham!'