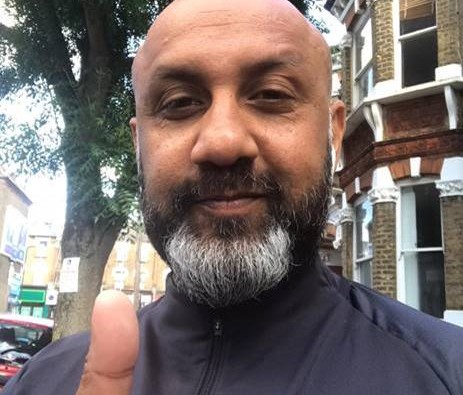 During the holy month of Ramadan, Muslims across the world fast from sunrise to sunset as a religious obligation and also to remember those without food and water.
The run was part of Islamic Relief's Ramadan 2.6 challenge, to get family, friends and more to sponsor people doing 26 or 2.6 of anything they like to raise money to help others and save lives around the world.
Hasnain is raising money for Islamic Relief, a charity working to transform and save the lives of some of the most vulnerable people in over 40 countries.
Hasnain Syed said:
"Running while fasting is something I've never done past 5km, so to attempt 26.26km seemed silly at the time. However as a marathon runner I knew the mind and body is capable of so much more than we think. It was hot and at times I had to walk conscious that I was not taking any liquids. It also gave me time to reflect on those around the world we support who practically live on empty stomachs and are lucky to just about receive a meal a day.
"I actually felt emotional at one stage, not sure if it was the pain or the thought of going through that myself. I came home to a nice meal. Millions won't get that satisfaction.
"It's always fulfilling when you physically do something to give back, that's why I admire Islamic Relief volunteers, as they're taking out their valuable time to support those in need.
"Until next time. I'll Keep on running and keep on giving!"
About Islamic Relief
Islamic Relief is a faith-inspired, development and humanitarian agency working to transform and save the lives of some of the most vulnerable people in over 40 countries. Islamic Relief assists people according to need and does not discriminate in any way.
Islamic Relief launched an emergency appeal last month to support the UK's most vulnerable people during the coronavirus outbreak through local charity partners. It committed to making £500,000 available to support these organisations.
Set up in Birmingham in 1984 by a group of volunteers, we have assisted over 117 million people all over the world. We're saving lives and empowering people to lift themselves out of poverty in over 40 countries – from Bangladesh to Bosnia, Pakistan to Palestine, Kenya to Kosovo.  Islamic Relief is on the ground in some of the world's most dangerous and difficult places – including Syria and Yemen – strengthening the most marginalised communities to withstand conflict and natural disasters and to build a brighter future. We also support vulnerable people in the UK in partnership with local charities and organisations.