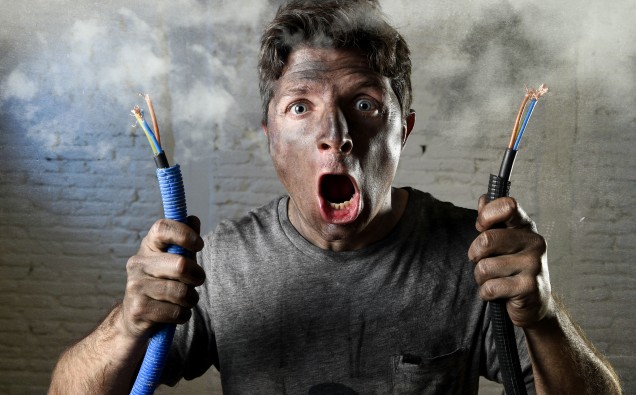 With the long bank holiday weekend ahead expected to see the traditional surge in home improvement activity, the UK's leading name for registered electricians is warning consumers of the grave safety consequences of attempting to dabble in dangerous electrical DIY.
With DIY stores nationwide having seen extraordinary demand from shoppers embarking on DIY projects during the VE Day bank holiday weekend, it is expected that the nation will once again make the most of the upcoming three day weekend by tackling home improvement work.
But with research suggesting that many may be inclined to dabble in unchartered, dangerous DIY territory, NICEIC is encouraging Britain to bank any electrical work for the professionals.
According to a poll of 2,000 consumers commissioned by the NICEIC1, 57% of British consumers would happily have a go at DIY with no prior experience – and not just in terms of picking up a paintbrush; 36% would attempt to insulate a loft, 29% would try carpentry, 26% would install lighting, 24% would dabble in electrics and 24% would undertake plumbing. 
Yet, of this emerging breed of 'have-a-go home improvers' the end result has been less 'Grand Designs' and more 'DIY SOS'. A quarter (23%) of those polled admitted they've previously had to call in a professional to fix a bodged job – with the average cost standing at a whopping £1,165. What's more, 25% admit to finishing a DIY job to a less than ideal standard, 15% have covered up a DIY mistake and 12% have injured themselves in the process.
Darren Staniforth, Senior Technical Presenter at NICEIC, comments: "With the current lockdown period meaning we have more time on our hands and most of it at home, it will come as no surprise that many Brits have started accumulating a wish-list of improvement work they want to get done. This, coupled with the upcoming bank holiday, a staple time for DIY, means it's likely that we're to see another surge of home improvement activity this weekend. 
"However, while it's great for homeowners to use this opportunity to get to those extra jobs they might not necessarily have time to do otherwise, it is important that they know their limits. 
"When it comes to electrical work, even the most seemingly simple of jobs can be incredibly dangerous and could lead to grave safety consequences. This obviously becomes even more pertinent at time when the NHS is already under huge strain and has already warned against bank holiday DIY, a traditional peak time for A&E, in order to safeguard care for those in need.2
Last year in England, there were 14,186 house fires, 718 serious injuries and 26 deaths  caused by faulty electrics and unsafe appliances in the home. According to Electrical Safety First3, the leading charity for electrical safety, almost half of all electric shocks described as severe are the result of a DIY error.
Darren adds: "It's important that homeowners remember that there is a reason why certain home improvement jobs should only be done by the professionals – and electrical work is most definitely one of them. 
"Of course, in the current time, asides from vital emergency work, this may mean holding out until the situation arises whereby professional tradesmen are able to resume domestic work in line with government guidelines. However, it's incredibly important that homeowners remain patient and bank any electrical work that needs doing until this time – only then can they rest assured of keeping their home and family safe."
Using a registered electrician such as those with NICEIC ensures carrying out electrical work is done safely and to a high standard. For more information please visit. You can search for a registered electrician in your area by visiting www.niceic.com