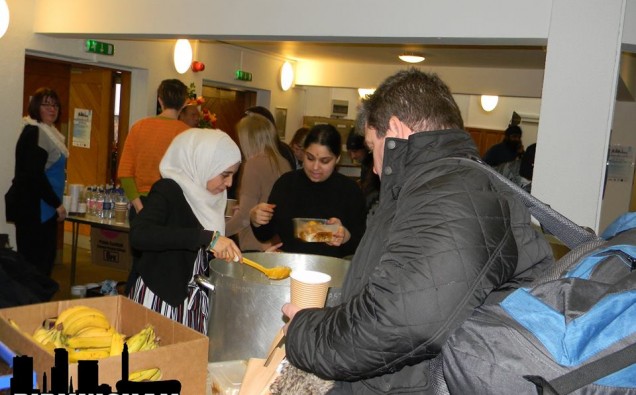 On Saturday 8th April, local individuals, charities and organisations joined forces to provide food, clothes, live music and free haircuts for the homeless in Birmingham.
On the day the far-right EDL demonstrate in the city centre, members of Birmingham's diverse communities came together to show a city united for good, standing against hate and disharmony.
Gathering at Carrs Lane Church, volunteers provided essential items to over 300 homeless and vulnerable individuals, as the 6th annual Birmingham Food Drive got underway.
Representatives from a cross section of faith-based organisations joined volunteers, partner groups and charities, to distribute hot and cold food, clothes, toiletries, sleeping bags and houseware items. Free haircuts were an offer, as well as a basic health check-up service and advice stations providing useful information about accommodation, finances and well-being.
The Birmingham Food Drive is organised in partnership with the Amirah Foundation charity, and this year sponsored by the Al-Khair Foundation.
Among those attending to lend their assistance were Jess Phillips MP (Birmingham Yardley), community activist Salma Yaqoob, Mr Birmingham title holder Joshua Williams, Cllr Majid Mahmood (Birmingham Hodge Hill), and actor Vimal Korpal, who compered the event.
The event is was also supported by The Big Issue Foundation, St Basils, 'Have a Hart – Help The Homeless', Midland Langar Seva Society, The Albert Street Project, Homeless Heroes, Artivist, Dubgasm, Let's Can Hunger UK and Birmingham Homeless Outreach.
Birmingham City Council leader John Clancy gave his continued backing, after attending and experiencing  the event last year, while hot food on the day was provided by the Shree Geeta Bhawan Temple.
Shaz Manir, CEO of Amirah Foundation, said:
"We're proud to be a part of the Birmingham Food Drive, and to work with all of the organisations from across the city that come together to help the homeless. In the West Midlands, 4,134 people are estimated to be sleeping rough on any one night.
"With sponsorship from Al-Khair Foundation, we hope this event gives our homeless friends the essential items, interaction and warmth they need at this difficult time."
Birmingham Ladywood MP Jess Phillips, who spent time with many of the service users at the event, commented:
"I think it's [Birmingham Food Drive] brilliant, it makes me incredibly proud to bring my children here, to see ordinary Brummies rolling up their sleeps and giving up their Saturday on a lovely sunny day, to help people who really need it.
"Like I expected to hear, people are living in very precarious situations, poor housing or no housing, largely has come about because of tragedies and complications in their lives, exacerbated by the benefits system, I'm afraid to say.
"Of the people I spoke to, the same thing kept coming up again, of people being taken of benefits and not being put on anything else. In that crisis situation, everything falls apart."
Founder of the annual charitable gathering, Adam Yosef, added:
"The Birmingham Food Drive was launched back in 2012 to bring together all the different individuals and organisations who work with the homeless in the city everyday, to allow them to share the passion and love of what they do to help some of the most vulnerable in our community.
"Together, not only do we provide a service and a temporary solution to the very real problem that is a lack of State care and assistance for rough sleepers and the hungry, but we aim to create solidarity and understanding between everyone we work with; to show that Birmingham pulls together and is united at a grassroots level around social welfare."
Last month, a special fundraising gig was held in Digbeth – organised by Dubgasm and Artivist – which collected a van full of clothes, food and essential items and also raised £200 at the door, which has been donated towards the Birmingham Food Drive.