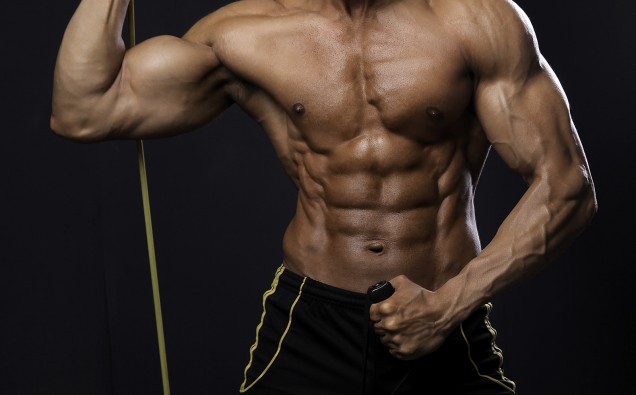 Rahat Shah is a massive family man and is always doing his best to make them proud, so when his beloved daughter asked him if he could get big muscles, Shah had all the motivation he needed to get stuck into his intense training programme. After a challenging and intense 12 weeks Rahat Shah transformed his body into that of a bodybuilder and won 1st place in the event held by the ABF (Aesthetic bodybuilding federation). However it was not all plain sailing for Shah after he seriously injured his shoulder and with the help of active clinic he was able to work on his preparation for his training and for the event itself.  This was the first Asian bodybuilding competition and was organised by a Birmingham gym called Flex, the event consisted of 3 weight classes and the organisers were; Ahmad Yaqood, Raja Haq, Mazhar and Waheed, all representing Flex. Mr Shah's road to recovery was sponsored by active clinic during his preparation for the event.
Having won best out of his weight class and really caught the eye of many, we interviewed Mr Shah to highlight his victory and the dedication it took to come out on top and look great while doing it.
What was the motivation behind your transformation?
Before it all started i was at home and i was sitting with my family nursing a serious shoulder injury, when my daughter said 'Daddy i want to see your big muscles' and usually you hear kids asking their parents for things you know like daddy i want this can you buy that, so i was shocked when she told me, she's 5 years old and has motivated me and now i was thinking okay i have to do something, so i went to my friends and told him i want to start training. He then advised me to start dieting and after 12 weeks i will hopefully be competing in a tournament and with the help of my friend i started to diet and train intensely for this big event. When i was training in the gyms, i listened to the professional body builders and watching interviews. Each time i would return home from the gym my daughter would ask me Daddy did you win?  Because she didn't know that i have just been training and not competed in the competition and that really motivated me because i wanted to win for my daughter, so every night i made my plan what i wanted to do for my training and for my diet and i just thought i really have to stick it out. But the most important thing is being disciplined and you have to attend the right gym and seek the right advice. Then once i saw the hard work paying off i was so proud of myself because of my daughter who inspired me to put the work in. I thank Allah for giving me the strength to carry on because there were days when i was tired but i never quit and i stayed motivated.
How difficult was it to live up to the intensity of the training and your daughters expectations?
Well when i wake up in the morning and see my daughters face i just wanted to go and train and she would always say to me Daddy keep going keep working and i would say don't worry darling, so that required me to remain disciplined because i would have 2 sessions a day 1 in the morning and 1 in the evening and between sessions i would have my food supplements. In the evening my session would be long and difficult because i have to be with my family aswell and my daughter cannot sleep without me so i would have to go home and be on time for my daughter and again she would remind me to keep going and keep winning. And then when i won the trophy i won the body modelling in my class and came in first place and after my class there was 2 more classes but i knew i was the deserving person of the award i could see in the judges faces that they knew i was the most deserving person.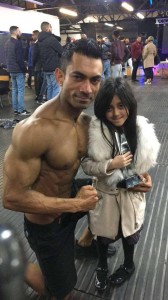 What did it mean to your daughter when you won the award?
She was jumping all over me and is always hugging me even a few days after i won the trophy, also she was saying to me not to stop now i need to keep going, so that has gave me even more motivation. Even through bodybuilding like this i am a role model to my daughter and i want to be a role model to other youngsters too i don't have to be a big movie star to be a role model and my message to youngsters is please always listen to you family and listen to the people who give you advice. It doesn't matter who you are a movie star, sports star or a model anyone can achieve their dreams and be a role model.
A true credit to his family, Rahat Shah has made his family very proud and most importantly his daughter who played a massive part in what has been an incredible transformation and achievement. Rahat Shah urges all youngsters to take any advice on board and to never quit on your dreams, stay focused and always listen to you family.