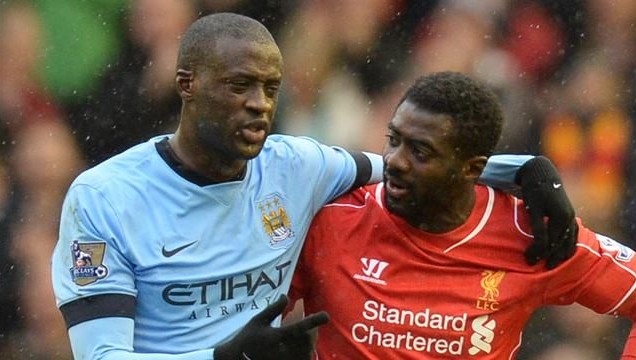 1. Eden Hazard
 A young player. He has been likened to Lionel Messi for his breathtaking runs and mesmerising skills in regards to ball control.
2. Mesut Ozil
A German of Turkish descent captured the imagination of the football world with his influential displays for the German national team during the World Cup. This young Muslim then managed to earn himself a move to the crème de Monte of the football world in the form of Real Madrid.
3. Franck Ribery
Burst onto the scene in Euro 2008 for the French national side and has steadily grown into the role of team leader for France. Ribery now plays in the German league for the elite side Bayern Munich. He is a regular attendee of Muslim festivals and has performed Hajj, illustrating his religious dedication.
4. Samir Nasri
Often flouted as the "pretty-boy" of football, he has remained as humble as ever after two big money moves from Marseille to Arsenal and eventually to Manchester City. He always performs dua (Muslim prayer) before he steps onto the pitch.
5. Yaya Toure
Went from the biggest club in football at this current juncture, namely Barcelona to Manchester City. He has demonstrated his power-house ability on the pitch on numerous occasions helping to propel City to the apex of the English Premier League.
6. Karim Benzema
Young, talented and ambitious, Benzema is a young Muslim brother highly regarded as one of the best striker's in Europe. He was sought after by French team Lyon but ended up signing for Real Madrid, where after a rocky start has managed to become one of the star attractions of a star-studded team.
7. Nicolas Anelka
In the twilight of his career, Nicolas Bilal Anelka has had a tumultuous vocation. He is a bit of a journeyman, having played in almost most of the elite leagues in Europe, but nevertheless has reaped the rewards with countless trophies in an array of top teams, which include Arsenal, Chelsea and Real Madrid.
8. Robin Van Persie
Is a convert to the faith of Islam after his marriage to a Moroccan. It seems his change of faith has paid dividends as he is regarded as one of the best strikers in the world. Spearheading the Arsenal attack he is the current leading goal-scorer in his respective league.
9. Kolo Toure
Elder brother of Yaya, Kolo has been around for a while. He has played for Manchester City who was once first in the Premier League. He was also a significant figure for the national side Ivory Coast.
10 Zinedine
Despite no longer playing the game, I feel Zinedine Zidane deserves special mention. Having won almost every accolade possible both individually and as part of a collective, he has set the benchmark. He is perhaps the greatest Muslim footballer to have ever graced the game and is the one player all young Muslims aspire to.