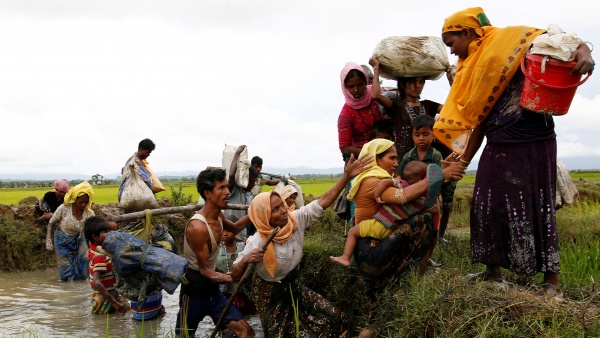 The Rohingya crisis continues. In a report by Médecins Sans Frontières, also known as Doctors Without Borders, at least 6700 Rohingyas have been killed by the Myanmar security forces. This took place in the Rakhine state when the Myanmar government
marched up to the villages- setting fire to the houses, inflicting violence on the villagers- mutilating them or killing them. The UN calls this move by the Myanmar government 'ethnic cleansing'- a process of getting rid of the Rohingya Muslims in Burma.
The Burma government, on the other hand, has denied all such allegations and said that 400 of the 732 children that have died in the Rakhine state were part of extremist terrorist groups and the rest of the violence was inflicted by the military forces. The
military claims that they were only responding to the coordinated attacks by rebel groups on the border post.
The civilian government has also denied international journalists and humanitarians
from entering the region. The manner in which the Rohingyas were attacked by the military are horrific. Mohamed Jabair has sustained severe burns all over his body when his roof was set on fire. Setara Begum, a 12-year-old girl, was a victim of a rocket hitting her home. She did not receive any treatment for the burn marks on her feet as a result of which she has no toes, and she has been mute since the traumatic incident occurred.
Similar incidents, some more horrific than the others have been incurred on the Rohingya Muslims irrespective of their age. Over six survivors crossed the borders to
Bangladesh and have been living in refugee camps that are overcrowded, unsanitary
and unhygienic. Refugees are still entering Bangladesh claiming to be victims of the violence. It is still unknown how many Rohingya are still there in the Rakhine state, waiting to be rescued.
Last month, a deal was signed between Bangladesh and Myanmar in order to return all the Rohingya refugees, but nothing was revealed about the details of the agreement.