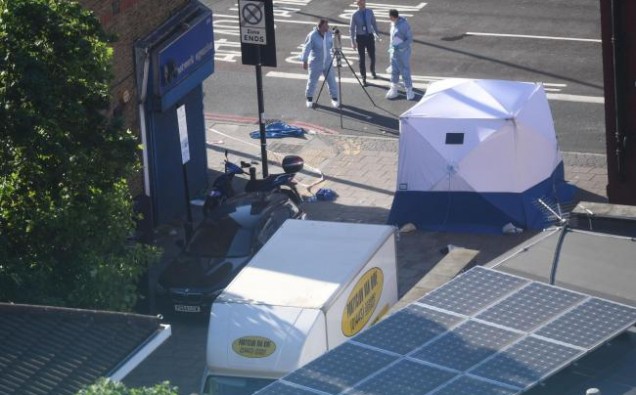 A man who has been accused of a terror attack at Finsbury Park has decided to take matters into his own hands, after growing angry due to the rise in terrorism and the Rotherham child sex scandal.
Darren Osborne from Glyn Rhosyn in Cardiff had allegedly mowed down Makram Ali, 51 and atleast nine other people on a pavement in North London. Darren, 48, was described by his partner as a lonely man who was not only an alcoholic, he was also obsessed with Muslims and previously accused them of being rapists and paedophiles.
During the trial, which took place at the Woolwich Crown Court, Prosecutor Jonathan Rees QC stated that the scene of the attack, which was located near two mosques, was busy with worshippers. Mr Rees said that Mr Osborne was trying to kill as many Muslims as possible when he deliberately drove a van into them.  He had killed one person and left others with serious injuries.
Mr Osborne has been charged with the murder of Mr Ali at the junction of Seven Sisters Road and Whadcoat Street, London, although he denies these allegations.  Mr Rees has also claimed that the act of extreme violence was considered to be a terrorist attack.
Many bystanders had rushed to the aid of Mr Ali after he collapsed and witnesses said that Mr Ali was conscious before being struck down by the van.
Mr Rees said "That was the motivation behind it, designed to influence Government and intimidate the Muslim community, and done for the purpose of advancing a political, religious, ideological or racial cause," he told the court.
A handwritten letter was found in the van after the attack. The letter complained about terrorism on the streets and the Rotherham child exploitation scandal, and it even labelled Jeremy Corbyn, labour leader, as a terrorist sympathiser. The letter even attacked Sadiq Khan stating him to be a 'disgrace' It even said "This is happening up and down our green and pleasant land. Feral inbred, raping Muslim men, hunting in packs, preying on our children."Get back to the desert you raping inbred bastards and climb back onto your camels."
Mr Rees told the jury: "The underlying theme seems to be that the defendant felt that insufficient was being said or done to counter terrorism and the grooming gangs comprising predominantly Muslim males.
"Against that background, the defendant decided to take matters into his own hands. He planned to make a public statement by killing Muslims, knowing that his handwritten note would be recovered by the authorities."
Reports state that the defendant had become obsessed with Muslims after watching the BBC drama Three Girls, which was based on the true stories of the Rochdale sex scandal.
Mr Ali's family were also in court as the CCTV footage of the attack was being played to the Jury, which showed Mr Ali collapsing.  A white van was seen turning sharply off the road and driving straight into a group of people, and a number of men had tried to prevent the driver from escaping by pinning him to the ground, as he was heard saying 'I want to kill more Muslims.''