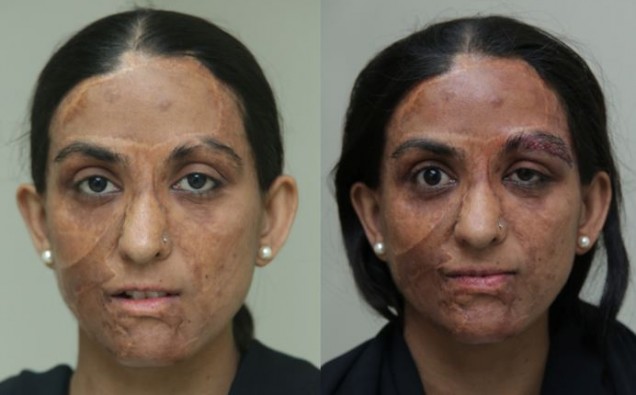 * Mother-of-two Fatima Muneer, 45, was doused with sulphuric acid in a family feud over money and has had four reconstruction operations;
* Shopkeeper Niaz Bano, 53, lost her left eye after being pelted with acid disguised in a cup of tea in a row over her daughter's wedding;
* British surgeon Asim Shahmalak travelled to Pakistan to provide both women with free eyebrow transplants;
* Dr Shahmalak from Crown Clinic in Manchester is one of only nine surgeons in the world qualified to carry out eyebrow transplant surgery;
Two women horrifically scarred in acid attacks have bravely showed off their injuries and told how their faces have been rebuilt by a British surgeon.
She bravely raised her arm to protect herself as the attack unfolded and was left with deep scars all over her face, arm and upper body.
Shopkeeper Niaz Bano, 53, lost her left eye after being pelted with acid disguised in a cup of tea by an embittered relative in a row over her 16-year-old daughter's wedding.
She has had eight operations so far to repair the damage.
Both women are being helped by British surgeon Asim Shahmalak who travels regularly to Pakistan on mercy missions to assist women whose lives have been blighted by acid attacks.
Bottles of the acid used in the attacks can be bought for as little as 15p with no questions asked.
Dr Shahmalak provided both women with eyebrow transplants as part of their facial reconstructions at a hospital in Karachi.
He is one of only nine surgeons in the world qualified to carry out the procedure.
Dr Shahmalak took a team from Crown Clinic in Manchester where he is best known for carrying out hair transplants on such celebrities such as Calum Best and Gogglebox star Chris Butland-Steed.
Father-of-two Dr Shahmalak, 56, said: "I wept when I heard their stories.
"Fatima was incredibly brave and tried to protect herself as the attack took place.
"She was doused with a lot of powerful acid and her injuries went right up her arm and over her upper body.
"Surgeons have done phenomenal job performing grafts on her arm and returning her face to normality.
"I played a small part by providing her with a new left eyebrow to replace hair lost on her brow in the attack.
"I took hair from the back of her head and replanted it in the gaps in her eyebrow.
"This new transplanted hair will grow back in the same way as her head hair so she will need to trim it every now again when the eyebrow transplant beds in.
"But in a few months, the damaged brow will be completely repaired."
Fatima said: "I cannot thank Dr Shahmalak enough. I've been very lucky to have been helped by such a wonderful team of surgeons and I am really getting back on my feet.
"I love my new eyebrow and I cannot wait to see it grow back."
Niaz Bano was scarred for life by a relative who mixed acid into a cup of tea and then threw it at her face in a row over her daughter's wedding.
Surgeons have spent the last ten years rebuilding her face and Dr Shahmalak filled in gaps in both her eyebrows with hair transplanted from her scalp.
He said: "Niaz's face has been transformed by the surgery. She has bounced back brilliantly from the attacks and now runs a successful grocery store from her home.
"I gave some symmetry to her face by performing transplants on both eyebrows. The new hair will grow back in her brows in the next few months and the bald patches will be gone."
Niaz said: "I love my new brows and this feels like the last stage of my the efforts to rebuild my face. Thank-you to Dr Shahmalak and the all the surgeons who have helped me."
Dr Shahmalak, who lives with his doctor wife Rubina in Cheadle, Manchester, also operated on cleaner Zahida Parveen, 24, who was badly burned by a gas cylinder in her kitchen.
She has had four reconstruction surgeries and Dr Shahmalak provided her with her a new left eyebrow.
The trip to Karachi was the third time Dr Shahmalak has performed surgery for free on acid attacks victims.
He was introduced to the women by the Karachi-based charity Depilex Smileagain Foundation whose founder Masarrat Misbah has worked tirelessly to help victims of acid attacks.
The charity not only finds surgeons like Dr Shahmalak to perform surgery for free but also secures jobs for the women afterwards.