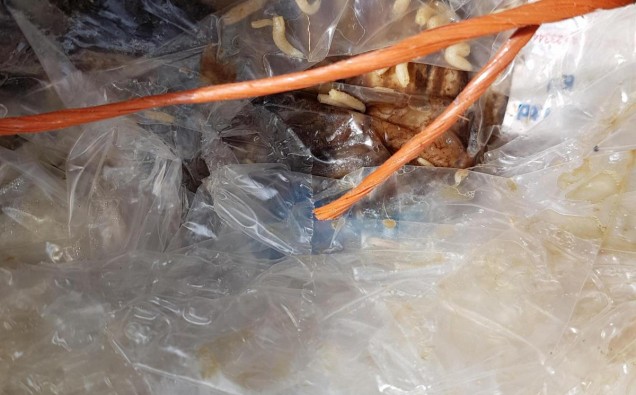 A Bolton butcher has been fined more than £5,000 after illegally dumping large amounts of food waste in the communal bins of the flats where he lived, attracting maggots and disturbing the other residents.
Hamed Ahmed of Quality Halal Meats on Deane Road, pleaded guilty at Bolton Magistrates' Court to illegally dumping waste in the bins outside of his home in Thornbank East, despite prior warnings from the council about the illegality of this actions.
Investigations began after being asked by housing landlords 'Bolton at Home', due to caretakers finding large amounts of waste in the flats' communal bin compound, which attracted maggots and prevented other residents disposing of their waste properly due to the sheer amount dumped by Ahmed.
The health enforcement officer who monitored the situation for several weeks found vast amounts of waste from Quality Halal Meats such as paperwork, till receipts, trays, loose paper, food waste, butchers' equipment and bloodstained plastic wrapping in and around the bins. Causing maggots to grow, causing inconvenience to the other residents of Thornback East.
Despite the waste being traced back to Ahmed who was then informed of his offences by council officers, he persisted in leaving waste in the compound resulting in Bolton Council taking further action.
At Bolton Magistrates' Court on the 15th of January 2017, Ahmed pleaded guilty to five counts of breaching his duty of care by allowing waste to escape his control, three counts of fly tipping and four counts of illegally transporting business waste, resulting in a large fine of £5,205 along with costs of £1,035 and a £170 victim surcharge.
Bolton Council's Executive Cabinet Member for Environmental Services, Cllr Nick Peel, said: "There is no excuse for dumping rubbish in this way. This waste attracted maggots which is unacceptable and unfair to other residents who had to put up with it. Most of our businesses dispose of their waste responsibly. However, we will continue to work closely with our partners to crack down those who fail to do so. We are pleased with the substantial fine; it sends a clear message that we will prosecute those who blight our neighbourhoods."
Another conviction gained by Bolton Council is against Zsaneta Stojkova of Mayor Street, who was fined £220 with £300 costs and a £30 victim surcharge, after dumping a table, chair, unit, carpet, clothes, wood and rubbish behind her home. Initially, Stojkova was issued with an £80 fixed penalty notice by an enforcement officer, which she did not pay. Stojkova was proved to be guilty in absence at Bolton Magistrates' Court on the 15th of January 2017 of illegally depositing waste.