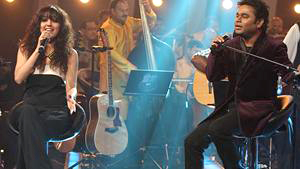 SSE Arena Wembley to host onstage extravaganza chronicling
AR Rahman's incredible musical journey
Academy Award (Oscar) two-time winner and fivetime nominee; Grammy two-time winner; BAFTA; and Golden Globe winner, the legendary AR Rahman, returns to the SSE Arena Wembley on Saturday 8th July 2017 after seven years with the "Yesterday, Today, Tomorrow"concert.
Celebrating 25 years since his acclaimed, music debut Roja, the visionary composer will be joined onstage by very special guests including Benny Dayal, Javed Ali, Neeti Mohan, Haricharan, Jonita Gandhi, Ranjit Barot and many more.
"Yesterday, Today, Tomorrow" marks the first in a global series, celebrating
25 years of the timeless music of AR Rahman and his team, who have crafted
and perfected performances that are enriched with high-scale technology and
production. Leading engineers from around the world have been brought on
board to present spectacular lighting and visuals as a backdrop to the live
sounds of the musical genius, creating a multi-media extravaganza that will
provide a once-in-a-lifetime experience for fans and audiences.
The milestone concert falls during the British Council's UK-India year of
culture. Two decades ago, to commemorate 50 years of Indian Independence,
Sony Music signed AR Rahman as their first artist in South Asia. The result
was Vande Mataram, an album that instantly connected Indians worldwide
and succeeded in rekindling the spirit of patriotism.
We speak to Neeti Mohan about what it means to sing along side the living legend.
You regularly perform with AR Rahman, why do you like working with him?
It's more than a dream come true to be working with someone who is such an inspiration and a legend. He is like a mentor and a guide and I feel so privileged each time I share the stage with him.
What's the biggest crowd you've performed to?
There was one time I performed in Chennai, and there were almost one million people there. The venue wasn't even that big, it was an open ground so they could all see the stage – it was really over whelming!
What's it like to perform to a crowd like that?
They are high on energy and just loving the music! The energy just goes to another level. It's hard to actually put that feeling into words. All you can do for a crowd like that is perform and give them more energy!
When did you know that you wanted to be a singer?
As a child I was always drawn towards music, if there was any music playing in the house or in school or in college, I was always around that and I would always take part in music. I never imagined that I would be able to sing professionally because my family don't come from an artist background and they're from Deli originally.
I took part in a reality show a long time ago on Channel V, I won that and I moved to Mumbai and that's how my journey started. I auditioned for Mr AR Rahman's live concert and I got to be part of that! – I'm so grateful that I get to do music.
You were once part of a pop group, did you prefer that to performing solo?
It was a great experience to be part of a band, but now when I see how my life has transformed, it's just taken it own course. I'm doing more playback work and performing in concerts. Whenever I get to meet my band mates and chill out with them I do, but I think I just want to do more music as a solo artist, I like this more now.
Do you think you'll ever venture into acting more?
I'm always acting behind the mic, you have to! Especially if you're doing playback singing, so much emotion goes into it.
Is it hard to convey that kind of emotion through playback singing?
It's not difficult, we all meet with the music directors before we record a song and we discuss it, what the situation is and what the characters are like. So there are a lot of discussions and a lot of workshops. We then try different renditions and then record the song. It's a very interesting process.
Which artists inspired you while you were growing up?
There were many artists, especially, AR Rahman, he's definitely one of them and he inspires me a lot.
I think it's the older generation because I grew up listening to them, Latta jee and Asha jee, all those artists and even artists from the West like Beyonce have always inspired me.
I've always observed them and their lifestyle, how they perform and what kind of life they lead, I find that really inspiring.
Apart from AR Rahman obviously, who would be your dream collaboration?
I think in India I have performed with most of the performers, but I am a huge fan of Beyonce so if it's any artist I would say Queen B!