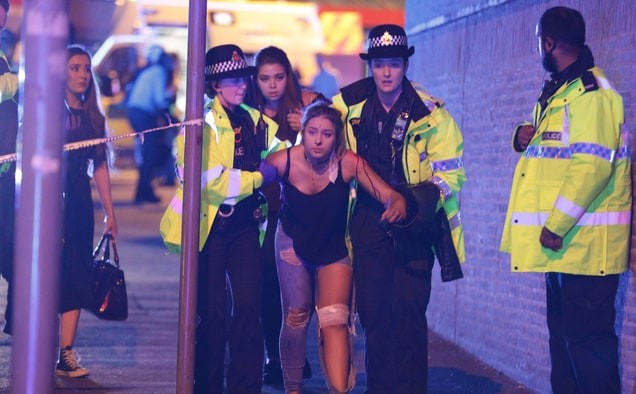 Suicide bombing at pop sensation's concert kills 22 and leaves 59 injured.
Thousands attended  female pop star Ariana Grande's  Dangerous Woman tour. However police were called to reports of an explosion that tore through fans shortly after Grande had finished her performance.
Panic and mayhem seized the crowd, as an improvised explosive device carried by the attacker caused victims to be thrown by the blast. This scattered nuts and bolts across the room  of the foyer area.
Traumatised children were separated from their parents. Concert goers recall blood and flesh flying across the arena.
More than 240 calls were made to emergency services with more than 400 police officers and 60 ambulances flooding the area.
Parents separated from their children during the attack were told to go to a Holiday Inn where many youngsters had taken refuge. Many hotels opened their doors to concert goers and provided them with food and drink.
Those confirmed dead include 18-year-old sixth form student Georgina Callender, an Ariana Grande "superfan" from Lancashire.
Eight year old girl Saffie Rose Roussos was also confirmed as having been killed after being separated from her sister and mother.
Ariana Grande left the arena unharmed, however reports claim the singer was "in hysterics" over the deadly blast.
She tweeted: "broken. from the bottom of my heart, I am so so sorry. I don't have words."
Ariana Grande has suspended her world tour following last night's explosion outside Manchester Arena, according to reports.
The Islamic State terror group has claimed responsibility for the bombing that killed 22 people including young children.
The first arrest has been made in connection with the attack. Prime Minister Theresa May disclosed that the authorities know of his identity, bur refuse to reveal it.
Mrs May said that the attacker deliberately chose the place where he could cause "maximum carnage" when he detonated the bomb.
Mrs May condemned the "cowardice" of the attacker and hailed those who rushed to help, who had shown "the spirit of Britain … a spirit that through years of conflict and terrorism has never been broken and will never be broken".
She said: "The terrorists will never win and our values, our country and our way of life will always prevail."
The General Election campaign has been suspended in the wake of the terror attack, which the Queen said had left the "whole nation" shocked by the "act of barbarity".