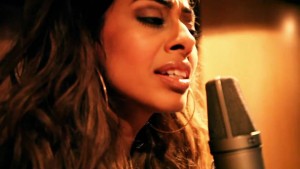 Walt Disney Records will release the original motion picture soundtrack for Cinderella on March 10, 2015. The album features original music by Patrick Doyle ("Brave," "Thor") marking the eleventh time Doyle has teamed with director Kenneth Branagh.
The score was recorded at Air Lyndhurst Studio in London, and was performed by the London Symphony Orchestra conducted by James Shearman and produced by Maggie Rodford. The film arrives in theatres on March 13, 2015.
British south Asian artist, Sonna Rele will be performing the main song for the film. Sonna, the London born singer-songwriter, was discovered by multi Grammy®-Award winning singer-songwriter/ actor NE-YO and chosen by Kenneth Branagh to record "Strong."  The album was produced by Patrick Doyle and executive produced by Kenneth Branagh.
Patrick Doyle's long-time creative collaboration with Branagh began in 1989 with "Henry V."  The film's song 'Non Nobis Domine' was awarded the 1989 Ivor Novello Award for Best Film Theme. In 1991, they re-teamed for "Dead Again," which earned Doyle a Golden Globe®-nomination. Subsequent collaborations include "Frankenstein," "Much Ado About Nothing," "Love's Labour's Lost," "As You Like It," "Hamlet" (for which Doyle received an Oscar® nomination for Best Original Score), "Sleuth," and "Jack Ryan: Shadow Recruit."
Doyle has scored over 50 international feature films, including "Rise of the Planet of the Apes," "Harry Potter and the Goblet of Fire," "Gosford Park," "Sense and Sensibility," "Indochine," "Carlito's Way" and "A Little Princess." His work has led to collaborations with some of the most acclaimed directors in the world, including Regis Wargnier, Brian De Palma, Alfonso Cuarón, Ang Lee, Chen Kaige, Mike Newell and Robert Altman.
In addition to the score, the soundtrack also includes end credit tracks by Lily James("Cinderella") and Helena Bonham Carter ("Fairy Godmother"), plus the end credit original theme song "Strong" (written by Patrick Doyle, Kenneth Branagh and Tommy Danvers) performed by Compound/Motown recording artist Sonna Rele and produced by TommyD (Kylie, Kanye West, Corinne Bailey Rae, FUN).
PD
Sonna Rele, British Asian artist