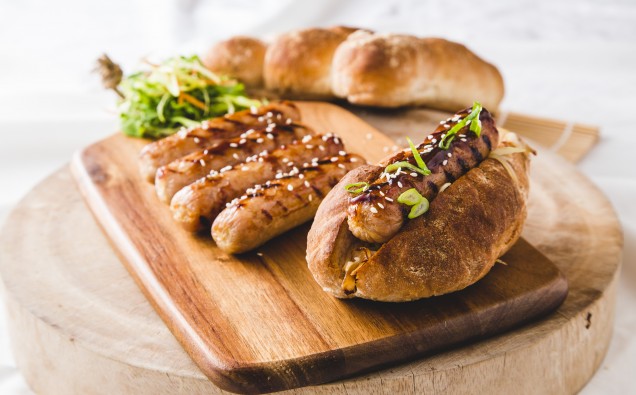 Everybody enjoys a hot dog from time-to-time, and with National Hot Dog Day fast approaching (23rd July)
Anyone can add an Oriental twist to their hot dog this year courtesy of Wing Yip – the UK's largest Oriental grocer. This recipe for Hoi Sin Sausages will bring an exciting change to the traditional sausage in a bun.
Most will be used to the sweet and salty taste of hoi sin sauce with Chinese duck, but it marries perfectly with sausages too – especially with a smoky chargrill when cooked on the barbecue!
With four stores across the UK, in Birmingham, Cricklewood, Croydon and Manchester, Wing Yip has absolutely everything that's needed to create lots of fantastic dishes. Shop online now at www.wingyipstore.co.uk.
Hoi Sin Sausages
Serve in hot dog rolls
Ingredients:
8 sausages
4 tbsp. Wing Yip Hoi Sin Sauce
1 tbsp. vegetable oil
1 tsp. white sesame seeds
2 spring onions, thinly sliced
Method:
If the sausages are linked together separate first, then place them in a bowl with the hoi sin sauce and ensure that the sausages are evenly coated.
Place a grill pan or frying pan on a medium heat and then add the oil to the pan. When the oil is hot add the sausages to the pan and turn every 1-2 minutes to ensure that the sausages are an even colour on all sides. A barbecue can be used as an alternative to the hob, weather permitting.
When cooked through serve with the sesame seeds and spring onions as a garnish