 By Priti Modi
Food Correspondent
Spanish cuisine has always been a secret favourite of mine, where little tapas dishes dominate the menu allowing one to 'graze' through exciting flavours and dishes. When I heard that Comida (a Spanish Restaurant with an abundance of Tapas) had opened up near to my house in Harborne, I was keen to explore their take on Spanish cuisine. Run by a partnership of award winning international chef Stewart and Jade a cooking school teacher (www.yum-yum.org.uk) half descending from Spain herself, Comida's ethos appeared to be an offering of passion for genuine Spanish food located in a neighbourly district at reasonable prices.
Why the name Comida? Literally translated means food … why else?!
Upon entering the venue, one could easily think it to be a high end artisan food shop; the interior was crisp white, well lit with window seats. The 40 cover capacity was well hidden through a walkway past the counter also housing the open kitchen and a room for private parties. The front of the shop was decorated with scentless hanging cured meats, a nicely arranged cluster of butternut squash and homemade Santiago (almond cake) on a stand, visually preparing the diner for treats to come.
Myself and my dining partner visited on a Saturday afternoon around 4.30pm and we were warmly greeted by Jade and a waitress and seated promptly by the window.
The menus were simple and cohesive, the drinks menu was alcohol free (diners can bring their own subject to minimum spend should they so wish) but packed none the less with a great selection of soft drinks and fusion teas, whose prefixes eluded speciality (Fentimans, Fevertree etc.) Whilst selecting drinks Jade informed me that the premises had been designed by her and included use of an old stable room which they now keep for private parties and events. There was also an area for summer days at the back which could be opened out and used, which to me showcased their forward thinking as a business, Tapas and summer go hand in hand.
In addition to the complimentary bottle of water and glasses on the ledge, I opted for a Blood orange fentimans and my dining partner had a pg tips tea (yes really.)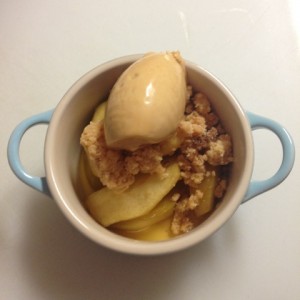 The succinct menu seemed to integrate Spanish specialities such as Les Flor's (a flat chew of fig and toasted almonds) homemade Aioli (garlic mayonnaise) Mojo (authentic piquante condiment) Quince (sweet fruit) and Boquerones Torta De Aceite (Spanish Cracker and anchovies.) Jade advised that where ever possible, they try to source Spanish ingredients; for example the shiny apples on the counter were all from Costa Brava- this all keeps in with their image and purpose.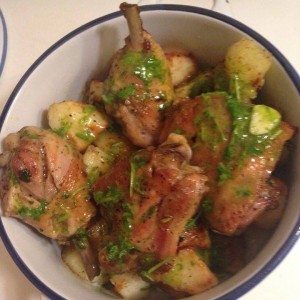 We decided on a selection of nocellara green olives, the Spanish meat board, Comida chips in Brava sauce, the Spanish cheese board and the Asparagus Egg and Manchego cheese dish. The olives came out first and were so meaty and fresh. The empty side plates given to us were large enough to sample a little of each dish which helped. Usually I find Tapas dishes to be so small and difficult to hold a variety of food. The presentation of each dish was ornate and carefully plated and I found the attention to detail such as the pickled chillies on the meat platter and the chopped almonds garnishing the cheeses to be beautifully contrasting, adding an element of thought to the meal. The Ewes cheese was the creamiest I have ever tasted and the Bravas sauce on the thick homemade chips was almost as intense in flavour as vine infused pasta, just delicious. The seasonal asparagus was hearty and well cooked; accompanying this was the perfect poached egg, when eaten with cheese tasted delicate and flavoursome.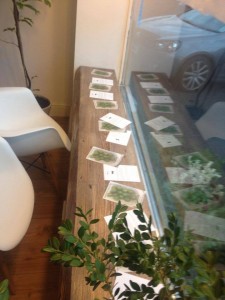 Jade advised that they can cater to dietary requirements if told in advance which was a nice reassurance and although a small part of the menu was in Spanish, the waitress was more than happy to explain the dish in detail.
The desert menu again inferred a nice contrast I tasted, chocolate cheesecake and pistachio brittle for example. We decided to sample the Santiago tart with caramel ice cream, the portions here are generous and this desert was sublime to say the least, a perfect end to the meal.
In terms of the future for Comida, Jade plans to open a cook school and she envisages that they may team up with a local allotment to source fresh vegetables. In summer months to come, they plan to develop the open space for a courtyard typesetting so diners can enjoy evenings in the sun. They are purposely situated behind the high street so not that easy to locate, but seemed to be doing well with the locals already. We thoroughly enjoyed our visit and I felt very much this contemporary eatery captured the essence of local, friendly and great tasting food. I will shortly be returning with a party of five and would really recommend a visit to anyone looking for a fantastic Spanish independent restaurant in Birmingham.
Prices:
Tapas range from £3.00 – £15.00
Drinks £2.00 upwards
Deserts £5.50 – £6.00