 The ground shakes.  People experience tremors.  Buildings and houses collapse.  Sometimes villagers in Nepal are forced to move away from tragic events.  In some situations too many people move into the towns and cities of Nepal.  To combat the overcrowding in some areas of Nepal, 100,000 houses made of bamboo are proposed to be launched by 2016.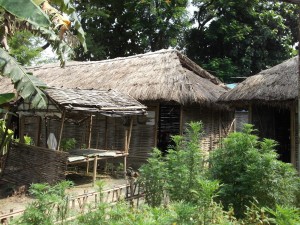 In addition to these bamboo houses, Nepal's government seems to have realised that approximately 200,000 more bamboo houses are needed in the Kathmandu Valley in Nepal.  Apparently Nepal's government believe that these bamboo houses can keep the housing business going for another 10-15 years.
So probably, most of Nepal's residents are based in its capital; Kathmandu.  But the remaining residents living in villages choose to migrate to the urban areas due to poverty and the lack of employment.  With the predicted affordable cost of bamboo houses, there is bound to be a further increase in urbanisation in the country.
According to a report from November 2014, Nepal has the highest rate of urbanisation at 5.74% in South Asia.  In comparison to Nepal, Bangladesh's urbanisation rate is 4.19%, Pakistan's is 3.41%, India's is 2.87% and Sri Lanka's is 0.37%.  This shows that there'll probably be a greater need for bamboo houses.  A research shows that the demand for houses in Nepal is 34,980 every year, as suggested by Mr. Manohar Rajbhandari, an engineer for the MRB Associates Earthquakes for Nepal.
So why use bamboo for houses?  Bamboo is considered to be earthquake resistant and environmentally friendly.  It's claimed that 20 bamboo houses stood, despite an unplanned earthquake with a magnitude of 7.5, in Costa Rica back in April 1991.  No wonder some believe that bamboo is as strong as steel.  On occasions when natural disasters strike, for example, earthquakes, landslides, monsoons and soil erosion, bamboo houses can potentially be a solution.
Last year in August 2014, the BBC reported that landslides are common in Nepal during the monsoon season; June-September and unfortunately, dozens of people die due to flooding and landslides.  With the expected increasing world population of 8.9billion by 2050, Nepal's government wants a sustainable future for its villagers to prevent them from becoming homeless.
Bamboo expert, Jules Janssen apparently has devoted 21 years to the study of bamboo and talks about how to maintain a bamboo house.  Janssen said: "You need a roof with a nice big overhang so the walls don't get wet in the rain.  And good air circulation, so if the rain is coming horizontally because of strong wind, it will allow the bamboo to dry.  Wet bamboo will rot in a matter of weeks.  A well-constructed bamboo home, on the other hand, will easily last 30 years."
It's reported that farmers harvest the bamboo from the eastern region of Nepal and the construction materials are traded at the depots.  Some of the construction materials are traded to India.  Out of an estimated 63,000hectares of land, 3.01million culms of bamboo are grown annually in 60% of Nepal's natural forests.  Bamboo is good for designing the walls, windows, floors, roof, doors and stairs of a house.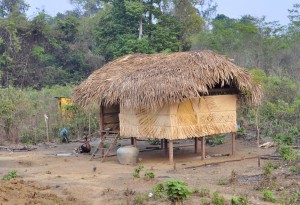 Long-ago it was believed that some houses in the rural and urban areas in Nepal were made out of wood and mud.  Probably today, this thought might well be true.  Some houses, even in the urban areas are dilapidated.  With the influence of constructing high-end buildings with bamboo such as airports and bridges in south America, Europe and Asia, hopefully the bamboo houses will prove to be a long-term sustainable solution.