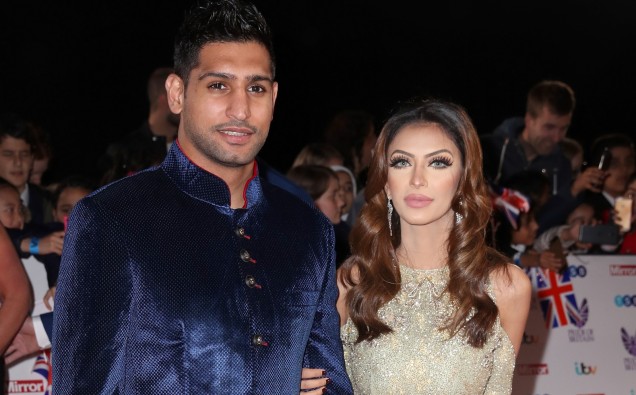 Amir Khan and Faryal Makhdoom have dominated the tabloids yet again, after a public social media brawl that saw the duo publish a series of increasingly bitter tweets.
Khan took to social media to announce that he and Faryal had "agreed to split" after accusing his wife of pursuing world heavyweight champion Anthony Joshua.
The millionaire boxer wrote: "'Left my family and friends for this Faryal. I'm not hurt but another fighter. I'm making it public. You getting the divorce #Golddigger"
The former light-welterweight world champion's joked that she had "moved up in the weight classes" before adding: "Mans like Joshua can have my left overs!"
Joshua responded by posting the video to the song 'It wasn't me' by Shaggy, adding: "Bantz aside, I hope you guys can resolve your situation or this is a hack as we have never even met! Plus I like my women BBW #ItWasntMe".
Amidst rumours that the accounts had been hacked, Amir posted a snapchat video confirming his account had not been hacked and that the statements were genuine.
He said: "Everything you saw on social media it is real. Me and Farrah have decided to move on and walk away. Nothing has been hacked," he said.
"We have to move forward it's not healthy for any of us. I wish her all the best in the future.
"Don't want you guys to worry…What's done is done, it's all true."
After publically announcing the split, khan was seen partying with another female in Dubai, after a clip went viral from the mystery female's snapchat.
In the clip, Amir has his arm around the mystery lady and says: "What's up? I'm here with my girl!"
Entrepreneur and fashion icon, Makhdoom, has received endless support on social media after khan's antics went viral.
Makhdoom posted after the announcement, saying: "Shocked at anirs (sic) response. Disgusted and clearly it's not him talking…I could blow up ur spot so bad but I'll be the bigger person.
"Actually trying to ruin someone's life like this is a low blow. Especially someone who's been there through every cheating scandal and stuck by your side when your own parents screwed your over. It's ok. I'll stay quiet. I won't let YOUR dirty laundry out in the public. Because I'm better than that."
Tweets that were later deleted said: "After all these years. I've always defending a cheat, always stuck around for him, always had his back. And I'm called a gold digger?"
"The amount of evidence I have on you. It can destroy you. But since I loved you at one point in my life. I'll just let it go."
It's not the first time that the couple's private lives have been played out in a very public sphere.
Faryal recently took to snapchat to call out Khan's family, accusing them of abuse and alleged bullying.
The couple had married in a high-profile New York wedding on 31 May 2013 at the Waldorf Astoria, the boxer having become engaged to the Pakistani-American student, from Staten Island, in January 2012.