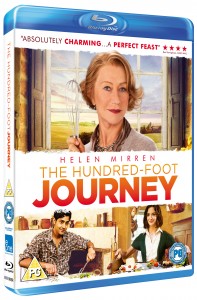 As perhaps one of India's most recognisable acting exports, Om Puri has amassed more than 250 feature film critics in his four decades in front of the camera. Born in Patiala, in the north of India, Puri is beloved at home and abroad, having played roles in mainstream and independent cinema in India, the United States and the UK.
In THE HUNDRED-FOOT JOURNEY, Puri again plays a proud Indian patriarch, this time leading his family to a sleepy French village in which he intends to open an Indian restaurant and bring a taste of home to a people whose cuisine has been unchanged for hundreds of years. And there's a catch: he's opening opposite a Michelin-starred legend.
Puri will soon reteam with Roland Joffe for THE LOVERS, alongside Josh Hartnett and Tamsin Egerton, but in London to launch THE HUNDRED-FOOT JOURNEY, he discusses his passion for cooking, the stellar ensemble, and his extraordinary cinematic history.
This is a hard film to watch on an empty stomach. The obvious first question is: can you cook as well as the film suggests?
I think I'm the senior of the group when it comes to cooking. I have been cooking from the age of 14. In school I was a Boy Scout, and one of them was cooking. There used to be competitions. I used to watch my mother, and if we went to anybody's house I would be curious to ask them, "How did you prepare it? What did you put in it?" etc. etc. I find it relaxing. It's like doing yoga for me.
Do you have a signature dish?
My preference is still vegetarian. I can't have a full non-veggie meal. I have to have vegetables. I love lentils and I love yoghurt. I can cook chicken and prawns, but it's mainly vegetarian.
Also, I don't indulge in cooking where you have to spend a lot of time. There are a lot of Indian dishes where you have to spend bloody half a day cooking one dish. I don't much use ground spices, which have a mixture of various things. I prefer to use the whole spice. I improvise a lot with food, too, and try to match things. Most of the time I have been successful in making a mixture.
There is one dish, which becomes like a whole meal. In the north we have a state called Uttar Pradesh, and there's a dish there called Tahri, which is a mix of vegetables and rice cooked together. It's like a pilau, actually. When the family goes for an outing, they come back home, the children are very hungry, and they don't want to cook three dishes. They cook this Tahri, which takes about 20 minutes, and you have a perfect meal. You have vegetables, rice and yoghurt.
The cast is from many different backgrounds. Was it easy to bond?
Well, I have to say that for me it's something that comes naturally. It all started with EAST IS EAST. I have a big family in EAST IS EAST and I got this idea before we started filming. I was staying in an apartment in Holland Park, so I said my exercise is that tomorrow we all meet at my place and we go out shopping to cook. Someone went to buy vegetables, and someone went to buy fruit, somebody went to buy wine. Everybody went shopping separately and we all got together and cooked the meal. We spent the entire day, until 12 o'clock at night and it was wonderful. Similarly I did that on this film. Every Saturday and Sunday my screen family would come to my apartment and I had to cook for them.
Your character is passionate but stubborn. Is that a common trait amongst Indian cooks, do you think?
Most Indians are very enterprising. Way back in the 40s and 60s, the people who came from India were essentially the labour class. Then, gradually, they had families here and became part of this society. But they came here with nothing. You can't imagine that they come almost penniless, and in 10 years time you see that they're millionaires. They don't spend very much – they're not indulgent. They save and they keep growing their business.
How did you break out internationally?
It started with CITY OF JOY in 1992. I had a big part against Patrick Swayze, and I got very good reviews in America. My producers and director, and the casting director, they said, "You must have an agent in London." I didn't know anyone, so they put me onto Jeremy Conway and he's still my agent today. With that film, gradually roles started coming and I did a lot of work in Britain. I did three or four Canadian films, and six or seven American films. Cameos, but good cameos, you know. I worked only with stars, whether it was Jack Nicholson or Tom Hanks or Patrick Swayze or Val Kilmer or Michael Douglas.
THE HUNDRED-FOOT JOURNEY IS AVAILABLE ON BLU-RAY AND DVD ON 9TH MARCH, COURTESY OF ENTERTAINMENT ONE