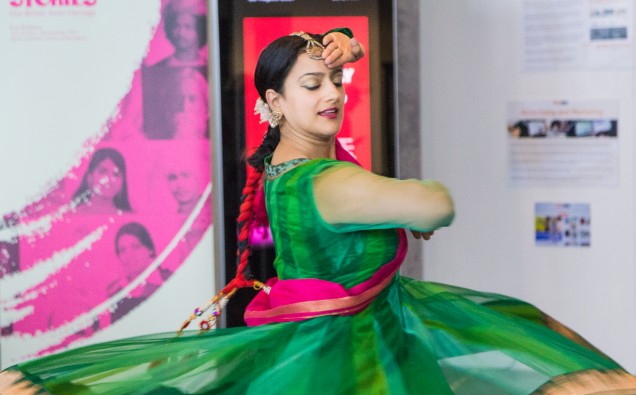 Library of Birmingham is organising a colourful one-day arts festival 'Lok Virsa- Beyond Borders' celebrating South Asian heritage on 26th August from 11 am to 4.30 pm.
It will feature free performances and workshops as part of a family day linked to the Connecting Stories exhibition currently on display at the library.
"The exhibition is collaborated with the British Library in London," Harpreet Kaur from the library told Asian World.
She further added, "different themes like freedom, justice, economy, and business are covered through lots of artefacts like maps, posters and photographs.
"What we're trying to say in our 'Connecting Stories' exhibition is that there is not just one story. Everyone has their own history and own heritage. We want people to share their stories.
"We have organised this Lok Virsa festival to put on a range of workshops encouraging people to think about why and how to document their story."
This pop-up festival, staged by the Sonia Sabri Company who are based in Birmingham and perform abroad participating in theatres and festivals, will include traditional music, dancing, arts and crafts throughout the day.
"We have been invited by the Library of Birmingham to be a part of their 'Connecting Stories' exhibition which is funded by Heritage Lottery Fund," Sonia Sabri, artistic director of Sonia Sabri Company told Asian World.
Adding about the Lok Virsa festival, she said, "there is not enough knowledge and information about how the Asian communities have created Birmingham the way it is. Lok Virsa is the journey of what Birmingham looked like across the 70 years after India and Pakistan's independence.
"People will have the opportunity to see Arabic calligraphy, get their mehndi done, and see massive rangoli work and participate in it. There will also be rare dance forms like Rajasthani folk dance and Afghanistani dance forms. People will also be able to participate and learn some of the dance movements. There will be music workshops as well."
Along with the cultural opportunities, there will also be an interactive storytelling performance which will have a modern retelling of a story based on celebration, characters, and fables from South Asian culture.
The festival is free and open to children as well.