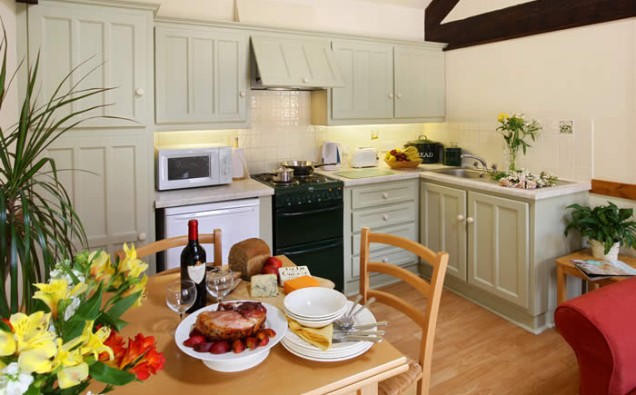 New study from MORE TH>N Insurance reveals trend of choosing self-catered accommodation attributing to increase in injuries being suffered while on holiday – including burns and breaks
Almost one in 20 (4%) have suffered a kitchen catastrophe when staying in self-catered accommodation on holiday resulting in more than one in three (36%) having to claim on their travel insurance with cost of medical bills averaging over £270 per claim
Out of Brits' favourite holiday hotspots Spain tops the list as the most accident prone holiday destination in terms of number of incidents occurred, followed closely by France and Portugal
The great summer getaway is set to begin for 2017, and this year will see more people than ever before booking themselves into self-catered accommodation for their breaks, owing from the ever-growing popularity of sites such as Airbnb. With more accidents happening around the house than anywhere else1 however, this new trend of holiday makers effectively renting a home environment for their holiday is putting them at a higher risk of suffering an injury or illness when abroad than ever before.
That's according to research by MORE TH>N Insurance that suggests the same level of caution is needed when staying in self-catered accommodation as you usually would when back at home in the UK. Indeed, almost one in 20 (4%) of those who have stayed in Airbnb or similar self-catered accommodation have suffered an injury or illness when abroad, with nearly half (43%) of those falling victim on more than one occasion.
The research results are being attributed to the increase in people holidaying the 'DIY way', using strangers' kitchens to cook rather than ordering room service and living in a working home rather than a hotel room.
With self-catered accommodation requiring tenants to cook for themselves using provided kitchen equipment, it is no surprise that a quarter (26%) have suffered from food poisoning or stomach related problems as a result of underprepared food and 24% from cuts or burns whilst using unfamiliar kitchen utensils. Sprained ankles or wrists (14%) and bone breaks (5%) are also common injuries suffered in the kitchen, with trips, falls and slips accounting for almost a third (30%) of injuries caused.
So what holiday destinations do Britons need to be most wary of when choosing self-catered accommodation?
Out of Brits' favourite holiday hotspots, Spain tops the list of the most accident prone destination, with a quarter (25%) of all injuries and illness suffered in self-catered accommodation occurring in the Southern European country. Dodgy home cooked paella may have been on the menu for some, as stomach problems (42%) were the most common complaint from sun seeking Costa del Sol travellers. France follows in second place with one in ten (11%) injuries and illnesses occurring, and also claims responsibility for the most cuts (25%) and bones breaks (25%) out of any country's self-catered accommodation.
Making up the top five accident prone holiday destinations are European neighbours Portugal, Germany and Greece, all accounting for nearly one in 10 (8%) of all injuries and illness reported.
The top five list can be seen in full below:
Top Five Most Accident Prone Holiday Destinations (ranked by total number of incidents)
| | | |
| --- | --- | --- |
| Ranking | Holiday location | Number of injuries/illnesses (%) |
| 1 | Spain | 25 |
| 2 | France | 11 |
| =3 | Portugal | 8 |
| =3 | Germany | 8 |
| =3 | Greece | 8 |
The negative effects this is having on the victim's holidays were also revealed, with 40% who suffered the injury or illness being forced to go to the doctor or hospital for treatment. Findings also show that during their holiday, 36% were unable to swim or take part in other sporting activities and one in three (33%) were unable to even walk properly for the rest of their trip.
Other consequences of the injuries and illnesses from kitchen catastrophes were being unable to explore the holiday destination (26%), unable to drink alcohol due to prescribed medication (16%) and being bed bound for the rest of the trip (13%). Worryingly, more than one in 10 (13%) were even forced to fly home and cut their holiday short as a result.
Subsequently, these unfortunate incidents suffered abroad also came with a cost, with more than one in three (36%) having to claim on their travel insurance as a result of the injury or illness, with the average medical bill coming in at £274. Shockingly, more than one in 10 (11%) received a medical bill of over £1000 – more than the actual holiday itself!
John Ellenger, head of travel insurance at MORE TH>N, commented: "Whilst it is inevitable more accidents will occur on holiday when people are more relaxed and less aware of the dangers in their unfamiliar surroundings, our research emphasises the need for holidaymakers to take as much care as they would when back in the UK to avoid falling victim to unfortunate incidents when staying in their self-catered accommodation.
"In the event something does go wrong however, it is absolutely vital that you have the right level of travel insurance cover to ensure you are sufficiently covered, especially if you are forced to cut your holiday short and head home early. Our research shows the top five accident prone locations are in Europe and whilst the European Health Insurance Card (EHIC) doesn't provide suitable cover on its own, it is equally important all British nationals have one with them when travelling across Europe to ensure their rights to state provided healthcare and help to avoid receiving eye-watering medical bills."