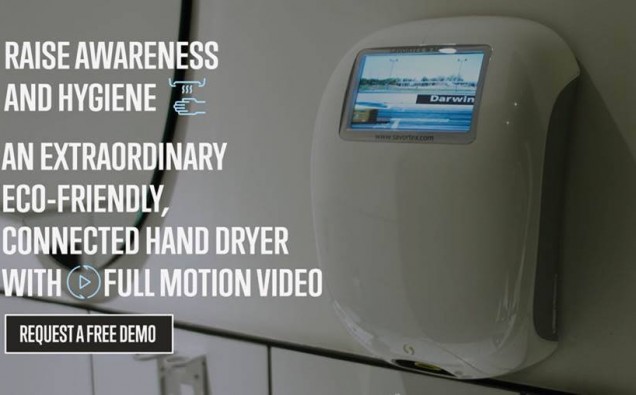 The adDryer™ hits the global market today. It is the first to offer video connected hand drying technology to the UK. It uses an advanced digital brushless motor to dry hands hygienically in just 11 seconds.
However, it is the use of IoT (Internet of things) and its in-built HD video screen that makes it unique. The intelligent dryer assesses audience data to display full motion adverts or hygiene messages to users as they dry their hands, and encourage behaviour in washrooms. The product has been endorsed by technology giants Intel®
The company's technology is now being used by leading UK businesses serving the public with essentials, having recently secured Manchester Central Exhibition Centre, which has been transformed into an NHS field hospital to fight the coronavirus pandemic.
Around the washing of hands, Health and Social Care Secretary, Matt Hancock, said: 
"The UK is a world-leader in preparing for and managing disease outbreaks and I have every confidence in our nation's ability to respond to the threat of COVID-19. Washing hands regularly is the single most important thing that an individual can do."
With the global coronavirus spreading at a rapid pace, hand washing, drying and hygiene are terms which have been searched for on google 660m times globally in just one month, further confirming that hygiene has come to the forefront of global business.
Grant Dickson from My Facilities says: "As a leading facilities management provider, and due to the coronavirus, washing and drying hands hygienically is the single most important strategy to our clients in their washroom facilities. We have introduced the adDryer to our national customers who are providing essential services to the public such as the supermarket chains and the NHS. Our clients are using the innovative technology to dry hands cost effectively and show internal marketing and hygiene messages to raise awareness."
CEO of SAVORTEX Syed Ahmed says: "These are unprecedented and challenging times for us all. We are honoured that our British manufactured technology is enabling UK businesses to stop the spread of the coronavirus. Our new adDryer™ is being used for energy efficient, cost-effective hand drying whilst showing hygiene messages to raise awareness and encourage user behaviour to improve washroom hygiene. The general public can use public facilities with greater confidence and increased safety. Recent projects we have shipped include busy verticals such as supermarket chains CO-OP, petrol forecourt owners Euro Garages and Healthcare sectors, having secured the new NHS field hospital at the Manchester Central exhibition centre"