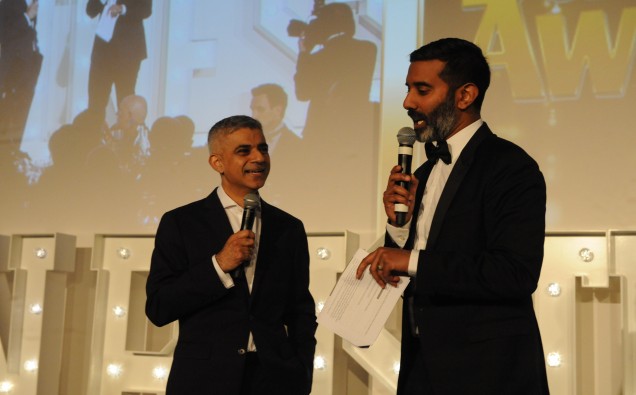 HINDUJA FAMILY REMAIN TOP OF THE ASIAN RICH LIST
 INDUSTRIAL MAGNATES REMAIN UK'S WEALTHIEST ASIANS WITH £19 BILLION ESTIMATED VALUATION
 TOP 10 WEALTHIEST ASIANS IN BRITAIN VALUED AT AN ESTIMATED £48.4 BILLION COMBINED
 COMBINED TOTAL WEALTH OF ASIAN RICH LIST 2017 ALMOST £70 BILLION – INCREASE OF £14.4 BILLION FROM 2016
The 2017 Asian Rich List was unveiled at the 20th annual Asian Business Awards (ABA), and saw Industrial tycoons, the Hinduja's retain the top spot with an estimated net worth of £19bn. Up in second place is steel magnate Lakshmi Mittal, with £12.6bn; in third SP Lohia with £4bn; with Anil Agarwal of Vedanta Resources and retail giants, Simon, Bobby and Robin Arora in joint fourth place with an estimated net worth of £2.2bn each.
The Asian Rich List, which profiles the top 101 highest earners in the British Asian community, values the top 10 wealthiest Asians in Britain at an estimated £48.4 billion and sees the Hinduja family increasing their valuation by £2.5 billion to a total of £19 billion, while Mittal has almost doubled his net worth from £6.4bn in 2016 to £12.6bn in 2017.
The Asian Rich List was launched at the 20th annual Asian Business Awards, which honours outstanding business leaders in the UK. The compilation is the definitive guide to Asian wealth in Britain and a window to the economic achievements of a community.
This year's Asian Rich List boasts a total combined wealth of almost £70bn. The list features four new entries, including Bhupendra and Ramesh Kansagra of Solai Holdings Limited who entered at no.19 on the list, with an estimated value of £500 million. The list is dominated by business leaders from a wide range of industries, most notably pharmaceuticals, healthcare and cash and carry businesses which, when combined make up more than 20% of the list. Businesses based in and around London make up more than half of the list.
The Asian Business Awards welcomed Chief Guest, The Mayor of London, Sadiq Khan. During a keynote speech, Mr Khan said: "London is home to one of largest, and most diverse South Asian communities in the world, which contributes a huge amount to our city's success – socially, culturally and economically. Nowhere is that clearer than in the business community. From retail and pharmacy to tech and innovation, the UK's Asian business leaders are at the forefront of their respective industries. The Asian Business Awards recognises the incredible success of these leaders and I was delighted to join them and the Asian Media and Marketing Group for another fantastic evening."
The evening was hosted by BBC Radio Five Live presenter Nihal Arthanayake and welcomed politicians, celebrities, influencers, entrepreneurs, business leaders and philanthropists to celebrate the diverse spectrum of Asian business and the significant impact made to British economy and society.
Shailesh Solanki, executive editor of AMG, commented: "The Asian Rich List is carefully compiled by a team of experts and helps to showcase the changing patterns of Asian wealth and economic development in the UK. This year's list is once again a fascinating commentary on the financial impact British Asians have in the UK and the level of success growth that certain entrepreneurs and business leaders have achieved."