 By Aneesa Malik
Much like the 13.4million British public who tuned into the Great British Bake Off finale, I felt an air of excitement, a sickly twinge as though having indulged in too much cake.
As the first challenge went underway, my mother- who had never previously seen the show- was instantly drawn to 'the one with the scarf'. Naturally I was #TeamNadiya from the offset- liking Nadiya was a piece of cake and she rose to perfection- if you will.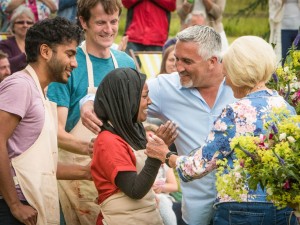 As Sue announced her as the winner of the Bake Off, Nadiya was overwhelmed with tears streaming down her face, whilst my mother and I also shed a few tears, knowing exactly how she felt.
As the judges embraced her, and Mary wiped the tears from Nadiya's face, I felt as though the entire Muslim population was being embraced. There was a sense of belonging, as I thought finally, we were being recognised as part of mainstream British society.
It was at this moment I came to the realisation that Nadiya winning was not just about being crowned as the best baker, but it was about the ultimate feeling of acceptance within the British society. On appearance Nadiya was the epitome of your bog standard Muslim woman; the name, the skin colour and the sealing the deal headscarf. But as weeks went by, the British public grew to love her for beautiful, kind hearted personality which shone through the thickest of icing.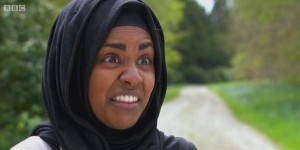 When the show first announced its contestants, there was an element of scepticism about all the mixed faces. As callous as it may sound, as with the likes of other shows, it seemed like a numbers game. They needed to represent each race and Nadiya was just another minority. That doesn't mean to say I wasn't thrilled at the line-up, particularly the final three. But, it would seem all the diversity was proving a little too much for some. Daily Mail columnist Amanda Platell argued: "Now we're down to the final three, it's certainly a PC triumph. We are left with Muslim mum Nadiya Hussain, gay doctor Tamal Ray, and New Man Ian Cumming. Poor Flora Shedden never stood a chance. She was far too middle class — and was booted off this week after her chocolate carousel was deemed sub-standard. Perhaps if she'd made a chocolate mosque, she'd have stood a better chance."
But, her final bake- a traditional Lemon Drizzle Cake- with the most quintessential Asian decoration, was a final illustration proving how the two cultures can sit harmoniously with each other. Both different, yet one. Nadiya is a prime example in highlighting how the Muslim community can not only integrate, but excel. Nadiya may have put her apron up after this series, but I cannot wait for another ethnic minority to take her place. Also cannot wait for that Chocolate Mosque Cake!