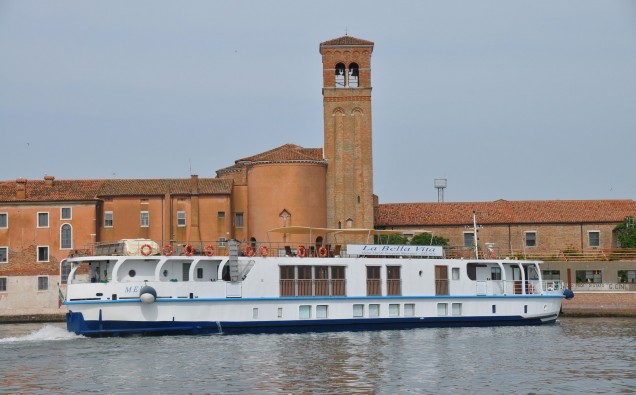 David Powell spent a week on the luxury barge La Bella Vita, cruising the Italian Renaissance from Venice to Mantua in considerable style! 
 La Bella Vita is a stylish 20-passenger vessel with a typically modern Italian interior offering a high standard of comfortable, fully air-conditioned accommodation. There are two upper-deck suites and eight lower deck staterooms. All cabins are en-suite and have a closet with drawer, storage space under the bed, reading lights, a mirror and safe. The eight staterooms have large picture windows while the two suites have a Juliet balcony. There's a bright and very spacious dining room and a lovely lounge/bar area with books, games and a piano. Outside on top is a vast sundeck with sun canopies and comfortable sun loungers to view the magnificent scenery. There's also a spa pool to enjoy and ten bicycles which can be used on certain days depending on La Bella Vita's location. 
 After one prosecco or two, we set sail along the Giudecca Canal for the short cruise into the heart of Venice. What a start, imagine seeing the most famous Venetian monuments from the river and then mooring near the Naval Museum alongside luxurious private yachts. From here it's just a short walk to St Marks Square, past the Gondolas, the white limestone Bridge of Sighs to the fabulous Doge's Palace. The royal site is where a private guided tour has been arranged by Giulia. Our group also take in the sights of St Marks Square. Then it's a stroll back to La Bella Vita for the first of our delicious dinners freshly prepared onboard with regional specialities, red and white wines, dessert and cheeseboard. Drinks included in the cruise are non-alcoholic beverages, tea and coffee, while the well-stocked bar is open 24 hours. There's the opportunity to stroll into Venice again after dinner should you choose. 
 At the beginning of day two, we're given a chance to visit the Murano glass factory. Soon we are being whisked by a private taxi boat to the nearby island of Murano. Here we enjoy a private tour seeing how Murano glass is produced first hand. Six showrooms are packed with hundreds of pieces of superb outstanding Murano glass items ranging in price from 10 euros to thousands. After returning to La Bella Vita and following lunch on board, we say goodbye to Venice and set off along the Venice lagoon to the pretty town of Pellestrina our mooring for the night. Before dinner we work off a few calories with a bike ride along the footpath near the sea wall, there's very little traffic to worry about.  
 The following day we sail into Chiogga, transfer to a small traditional boat for a tour of Chioggia's pretty canals. We catch up with Andrea at the colourful fish market, and our group happily helps him choose fresh fish and seafood. On our return to La Bella Vita, we start cruising along the River Po. Captain Roger stopped for us to take photos of pink flocking flamingo as we head upriver to Taglio di Po enjoying sensational views on the way. Here we stop for the night and a special dinner has been arranged ashore at the beautiful 17th Century Villa Ca'Zen. The venue is a huge private stately home close to the river where Lord Byron courted the Countess Giuccioli and wrote some of his best poetry. We were hosted by the owners of this magnificent building welcomed with prosecco and canapés, a tour of the gardens and chapel followed by a beautiful dinner. 
 The weather on our cruise had been fantastic all week. There are several low bridges on our final route, and the crew has to dismantle the sun deck canopy. Andrea, the 2nd captain, makes sure we all keep our heads down and then we arrive at the captivating lakeside setting of Mantua. We have free time and a guided tour of the 14th Century Ducal Palace. Tonight it's the Captain's farewell party where the crew joins us for a fabulous night; we all agree what a super cruise this has been. 
 More Information 
 European Waterways offer luxury hotel barging along the canals and waterways 
of Europe.  
 European Waterways are currently offering 10% off charters on a number of departures in 2020, valid when booked before 13th September 2019. 
Tel: 01753 598555 or Toll Free from USA 1 877 879 8808    
Website: europeanwaterways.com