 By David Powell
Whether you're looking for a two week holiday or a short break, Cyprus is a lovely island well worth considering. With its intense Mediterranean climate the weather is very easy to predict. Lying to the east, Cyprus is the 3rd largest island in the Med and is bathed by the sun from March to late November; May to September being particularly hot and the peak of the tourist season.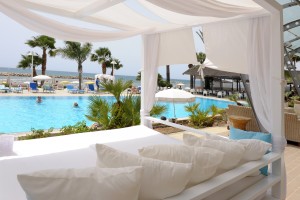 Just over 4 hours flying time from the UK and you're in Cyprus, a landscape of citrus and olive groves, pine forested mountains, miles of sandy beaches and warm clear seas. Apart from a relaxing getaway, you'll find an abundance of things to see and do whether its history, shopping or sightseeing.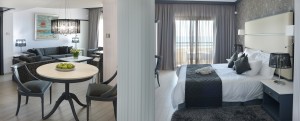 Named after Aphrodite, the Goddess of Love, Cyprus is a destination that many people have fallen in love with over the years and is regularly featured in the top 5 most visited destinations. A former British colony, there are still strong links with the U.K. English is widely spoken and the islanders even drive on the left so you'll immediately feel at home here, although the Cyprus pound has long given way to the Euro.
There are many established resorts along the southern Cyprus coast and Larnanka is one such resort. Although the longest established and popular with the locals, it is not yet overrun by tourists. Larnanka is a port town with some great shopping, a historic old quarter and lines of mature palm trees which run along the delightful harbour promenade.
The Palm Beach Hotel and Bungalows
Just 6 km along the coast from Larnaka city centre, and a 15 minute taxi ride from Larnaka International Airport is The Palm Beach Hotel and Bungalows which I found to be an ideal base for a perfect escape to Cyprus. This hotel has recently been extensively renovated and upgraded featuring superb 5 star facilities. They say first impressions count and this hotel certainly made an immediate and outstanding impression, which I'm pleased to report, stayed with me all of my week long stay.
Set on a long, sandy beach with wonderful tropical and Mediterranean gardens and an abundance of palm trees (apparently there's over 700), this is a stunning location and an ideal base for exploring Larnaka, the Troodos Mountains and Nicosia – or you may simply wish to enjoy the elegant and modern facilities of the hotel and spend lazy days on the private beach or well kept pool area. Hire a car for a few days and explore the pretty
nearby villages especially Lefkara where lace is still made in the traditional fashion and there are more http://larnakaregion.com/page/villages. Visit the first winery in Cyprus designed and built according to innovative bio-climatic standards. Ktima Dafermou (www.dafermouwinery.com) winery is open to visitors wishing to get to know the local wine and viticulture and is located above the stunning Lefkara Valley, just a 30 minute drive from Larnaka.
The main grape varieties planted at the estate are reds – Syrah, Cabernet Sauvignon, Cabernet Franc and Maratheutico and whites – Assyrtiko, Malvasia, Sauvignon Blanc and Chardonnay. Visitors are introduced to the varieties of grape in the vineyards, the techniques and process of wine production and lastly get to sample the fine taste of the wine in the beautiful surroundings of the wine-tasting rooms.
The Palm Beach Hotel and Bungalows has all the amenities you would expect from a luxury hotel. For extra style you can choose to stay in one of the Garden Bungalows with their own lagoon shaped pool and separate bar area. As for the service, I found the staff to be professional, friendly and courteous, nothing was too much trouble. There is a choice of restaurants; the Palm Court terrace for breakfast, the excellent Seabreeze Tavern situated close to the main pool, an ideal location for lunch, and the elegant Pergola Restaurant offering a superb choice of dinner menu where you can dine in lovely surroundings or on the terrace just metres from the sea. Young children are well catered for with their own outdoor playground with a small pool, water slide and a mini club during the summer months. There are a number of bars throughout the hotel, where you can usually find live music; an indoor heated pool, fitness area, and beauty centre.
More Information
For further information on a holiday in Cyprus staying at the Palm Beach Hotel and Bungalows take a look at their website:
www.palmbeachhotel.com which is an excellent detailed site showing their many facilities, or visit larnakaregion.com which is the official Larnaka Tourist Board website