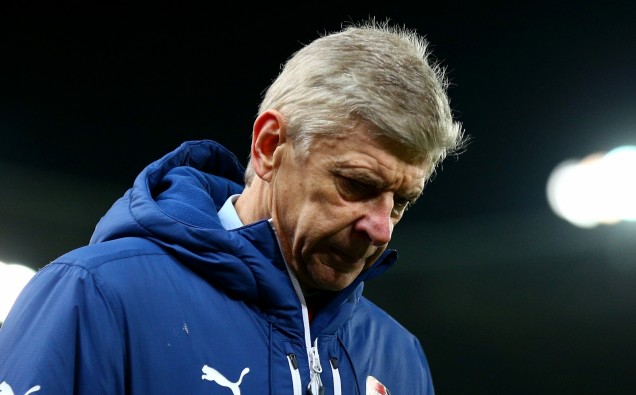 With Wenger remaining in charge, Arsenal will never win another league title or go far in Europe. It's time for a change at the emirates.
Although they are still in the FA cup and the Champions league, the league has slipped away once again after another consistently inconsistent season, which now leaves them 10 points clear of leaders Chelsea. As far as Europe is concerned, yes they are still in the tournament but being drawn against German giants Bayern Munich their fate is almost sealed, especially the form they are on. Arsenal have now lost their last 2 games against Watford and title Rivals Chelsea and they've showed their weakness by allowing Chelsea to take a convincing lead at the top.
It's fair to say Arsenal have under achieved massively in recent years and coming to the business end of the 2016-17 season, It's happened again, no bottle, losing games they shouldn't and no league title.  However to sack Wenger would be a disgrace, but surely at the age of 67 he cannot do any more with this club and unfortunately for the Frenchman it is showing. He has to step down or at least have a good, long think about his future.
Now no Arsenal fan should forget the success he has brought the club over the years, but his idea's and his philosophy's are becoming too predictable, with the consistent hot and cold performances season after season and let's be honest this has been happening since the last of the 'Invincible's' departed the club. With the most expensive season ticket prices in world football, fans should expect to see success after success after success, but all Arsenal fans are getting is over reacted celebrations on finishing in the top 4. Now that is an achievement granted, but for Arsenal with their history and their calibre that should be a breeze.
The worry, for me started last season when the only player he brought in was Veteran goalkeeper Petr Cech. How do you expect to build on a previous season with the same side? This shows the naivety of Wenger who has stated that this is the best Arsenal side he has worked with. To say that would be an insult to the likes of; Thierry Henry, Dennis Bergkamp and Patrick Viera who went a whole season unbeaten and actually won the league under Wenger. Every single player of today's Arsenal squad would only be good to shine the Invincible's boots before a game. Perhaps Ozil and Sanchez would get on the bench.
It baffle's me that the likes of Ozil and Sanchez have stuck around for as long as they have, they are the only 2 world class players in this Arsenal side, with Cazorla always injured, Giroud being very inconsistent and keeping faith in the over rated winger Theo Walcott, Wenger must be questioned on the lack of quality he attracts to the club.
A manager like Diego Simeone would be perfect for Arsenal; Passionate, tactician, big name and will attract these so called world class players. You could argue that their constant pursuit of German wonder kid Julian Draxler would of broke through if a manager like Simeone was in charge. Not just Draxler, but players like Cavani, Benzema and Lacazette have all been missed opportunities for Wenger over the years with them moving or staying at their 'better' clubs.
However Arsenal have the stadium, the fan base and the backing to be up there with the very best and if the Gunners are to reach the heights of 2004 then Simeone is a vital appointment for them so they can be true, consistent title challengers, without falling at the last hurdle.