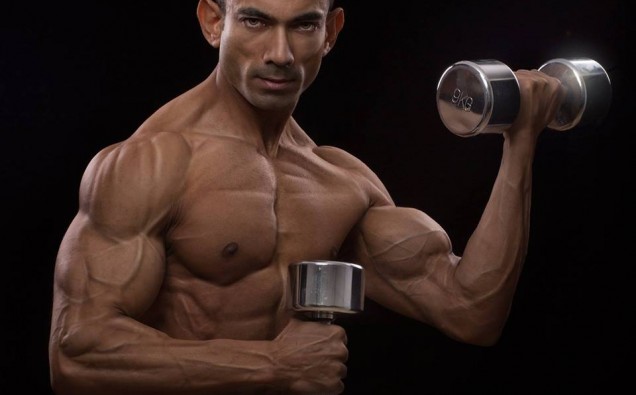 You've talked about your daughter being an inspiration for your dramatic life-style changes, and said she encouraged you to get into body building. Can you give more information about how she has influenced your fitness journey?
That's right; at one instance my daughter said to me 'Daddy, I want to see your big muscles.' I was quite surprised because it was such a peculiar request. Therefore, I delved into my own research and started my 12 week prep to move onto my fitness programme. It was even a dream of my late father to get awarded at a competing tournament, and I decided to make this goal my own and became determined to achieve it.
You were a former graphic designer and photographer; do you think that's a career you can ever imagine yourself in again after all the success you've achieved as a body builder?
That's right, before I was a body builder I was a Graphic designer and photographer with my own production house. This was an equally challenging role as I had to manage my time between my family and my job as well. It has also been a passion of mine but at the moment my current focus is on my bodybuilding career.
What did it feel like winning first place at the UKBFF Federation in October this year? When you first started out in your career as a professional body builder did you think you would ever get this far?
It felt amazing. I have been able to achieve my goals in my bodybuilding career by directing a lot of attention to my training and progress. However,  I never thought I would come as far as becoming  British Champion 2018, in the little time I did since properly committing to my fitness journey.
Who are your idols in the body-building world and how do they inspire you?
Like most youngsters, one of the body building role-models who inspired me from a young age was Arnold Schwarzenegger. I never thought of becoming a professional competitor as a child. But as an adult, when you have the motivation to achieve something, you know you have to do everything possible to achieve that goal. As I remember, when I was 14 weeks into my training I listened to an Arnold Schwarzenegger interview from when he was at the same. During my cardio session it gave me the strength to discipline myself and stay on track, which is really important part of winning.
Can you describe any difficulties you faced whilst you were training towards your goal and how you over-came them?
I think the best person to describe my weight lifting journey would be my coach Nick Duffy, who has kindly inputted a statement about what training with me has been like: "Working with Syed Rahat Ali Shah, has been a whirlwind set of events with both ups and downs, physically but also mentality, the way contest preparation always is 'if' you're working extremely hard round the clock. He came to me with the desire, passion and dream to win the UKBFF British Finals Masters Men's Physique. With my experienced expertise and support, alongside his uppermost self-discipline, motivation and willingness to bring the best shape to shape he ever has, we won the British Finals alongside a Top 6 finish at IFBB Arnold Classic. I have great respect for Syed Rahat Ali Shah, although difficult at times, for such a commitment to his dreams and next time we'll be peaking for the Arnold Classic towards winning his category. Even I got injured my shoulder last 2 years I still keep going on to accomplish my dream to winning this 2 big championships Arnold Classic Top6 and British Final 1st Place Champion.
What advice do you have for amateur body-builders who came from the same beginnings as yourself?
The Bodybuilding community is extremely motivating due to competition and desire to be the best. Everyone has the same goal, to win, therefore it is a very competitive environment. However, people are willing to help you as much they can.  Fellow competitors do share their different training methods and diet techniques. This helps you improve your own method and help you fix your weak points.
How do you balance family time with your difficult training programme?
Without planning you can't balance anything in your life, we all have 24 hours, minus sleep that's only 18 hours, 8 hours is spent on your day-job, 2 hours travelling to get to work and come back  home. After that you can decide how much time you spend eating and with your family. Therefore, only 2 to 3 hours daily is left for gym training. It's not easy but when you get used to it, working and balancing your home life becomes a habit. Lots of people give excuses on how they're so busy with work that they can't eat right and can't train right, but if you discipline yourself then of course you can.
Where is your favourite gym and how long have you been a member?
A place called The GYM247, where they allow me to train day and night. It's based in Moseley and feels like my second home. I've been training there for the last 9 years. Of course I'm sponsored by other gyms but I really feel the most comfortable at The GYM247.
Can you describe a typical day of training for you, what exercise do you enjoy doing the most, how much cardio do you do? Etc.
I train 6 times a day if I have competition coming up soon. I enjoy shoulder and arms training the most, and undergo cardio training twice a day, every day.
Where will you be competing next and what are your future plans?
I will be competing in the World championship in 2019, which may be held in either South Africa or Barcelona. My future plans are to inspire the whole nation, I can help at any point if anyone wants to reach out and ask for my dieting or training plans.
If you want Syed Rahat to help you in achieving your fitness goals, you can contact him on Instagram on the handle @rahatfitnessworld
By Manisha Bhanot