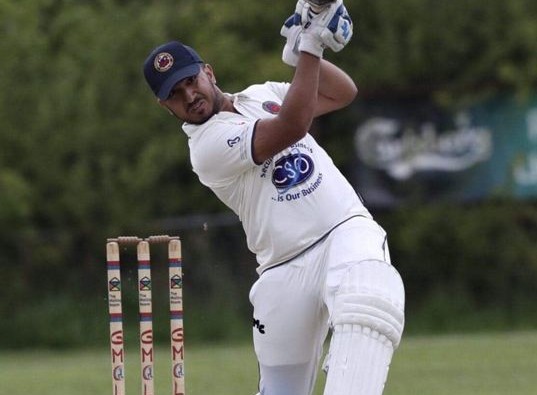 My name is Bilal Mohammad and I am 19 years old. I was born in London and have lived here all my life. In the last few weeks I have started my first year studying Business and Management at University. Alongside my education, cricket has been a deep passion of mine from a young age. And how could it not be? I can remember learning how to hold a cricket bat perhaps at the same time as I learnt how to hold a pen – thanks to my father! My father used to play cricket in his youth and it is his almost obsessive passion for the sport that I have inherited.
I started to play competitively for my local club, Ickenham CC at the age of 8. I was primarily a batsman and also bowled leg-spin. I was nominated to attend Middlesex County U10 trials in just my second year of play competitively. A few weeks later, I received a letter through the post saying that I had been selected as part of the main county squad. I was selected as a bowler. I had 20 catches dropped of my bowling and I was never given the opportunity to bat in the whole season. I remember quite well how disheartened I was in the winter months. It was my dad and my brothers who supported me during this tough period. That winter my dad took me to Karachi during the Christmas holidays to play cricket. I attended the Karachi Port Trust Academy daily which was a 5 minute walk from my Grandma's house. Head Coach, Bharat Kumar would ensure I would receive a high standard of practice every day. He would put me in a net to bat against First-Class bowlers who were playing in the Quaid-e-Azam trophy at the time.
Following my trip abroad I got in contact with Surrey CCC to play for them. I always considered myself as batsman as I was frustrated with my opportunities at both club and county level. I was told to play district cricket in the Surrey circuit and if I performed I would be drafted in the main county side. I had a solid start to the season for my new club Uxbridge CC, I will always be thankful to Uncle Abrar Dar who gave me the opportunity to open the batting. I topped the batting charts for the district team and took over 22 wickets which lead to a call-up for the County side.
I had been a regular for the county side and was scoring many runs in all teams I was representing. Between 2011-2014, I had scored more than 1200 runs each season which led to being nominated for 'Amateur Player of the Year' at the Asian Cricket Awards 2014. I was given further good news that I had received a Cricket Scholarship to attend Charterhouse School, an independent boarding school which begins at Year 9. This was a life changing experience as I left being a more confident and independent.
At 16, visiting Pakistan for several years now. I was then scouted to play for CandyLand, a Grade 2 First-Class team (One step below Division 1). A lot of National Team players also play in this competition, so a big performance could catch the eye of selectors. Having performed well I was given the opportunity to train alongside Lahore Qalandars during the inaugural year of the Pakistan Super League. It was a great opportunity to talk to some big Pakistani names that play for the Qalandars such as Fakhar Zaman and Yasir Shah.
At the moment, I am balancing cricket with University. Along with these commitments, I support the family run cricket equipment and clothing business called Mars Cricket.
I would just like to finish off this piece for the young readers who are younger than me reading this. Dreams are never too big. Chase your dreams, pick yourself up during hardship and keep re-evaluating yourself to make yourself better each day!
Mohammad Zafran