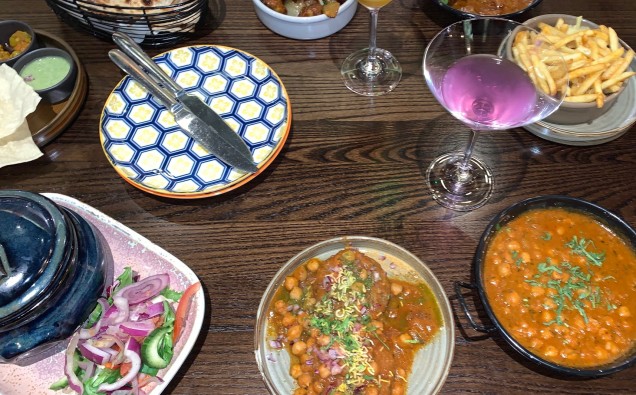 Indico, Birmingham is a North Indian-style restaurant located in the heart of Birmingham, well known for its authentic and mouth-watering cuisine.
True to the tastes and artistry of the state of Punjab, each dish is created with the perfect blend of spices and invokes the sweet and sour flavours of the region which is home to Punjabi cooking. Every curry or rice dish is hand-crafted by in-house chefs following a genuine Indian recipe and using only the finest ingredients. 
Take a bite out of the eatery's freshly grilled naan bread or a spoonful of delicious channae, and you will be transported to the busy and bustling streets of Northern India. Indico replicates a style of cooking and preparing food that pays special homage to the local culture of Punjab and its notorious food vendors themselves.  
Being seated and served in the restaurant will bring you flashbacks of old-timer Hindi romance films and the golden age of Indian cinema. Each wall is decorated with framed film posters from the likes of Mother India, Barsaat, and Don. There are also poems that pay tribute to India's street-side stall runners and praise their hard work ethic. Above the bar area and towards the restaurant entrance, diners can view the impressive traditional style-paintings of Indian men and women, and real-life portraits of local Punjabis. 
Indico are promoting a plant-based menu exclusive to Veganuary this month. Among the selection feature all-time desi favourites like paani puri, aloo tikki, and Punjabi samosa chaat to get your appetite going. Main dishes of vegetable biryani, served in a painted earthen pot with fresh salad and spicy Punjabi choley are also included. For sides, diners can select from either steamed rice, tandoori roti or masala fries. Vegan dessert options are also available.   
Manisha Bhanot