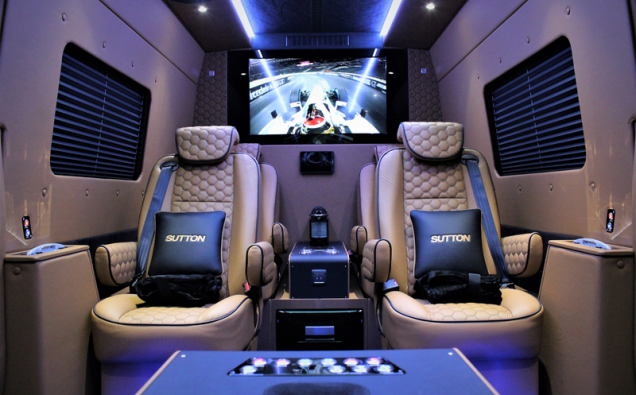 Mercedes-Benz V-Class and Sprinter

'VIP Class' conversions provide ultimate in luxury, space and refinement

 

Sutton Monster Raptor, 1967 GT500CS '

restomod

' Mustang and Sutton Bespoke Mustang GT700CS also on display at the Show

 

Clive Sutton is one of the UK's leading coachbuilding, custom and specialist car dealers

 
Sutton Bespoke is launching its new 'VIP Class' vehicles – a new range of high-specification, highly luxurious people carriers based on Mercedes-Benz V-Class and Sprinter models. 
The bespoke people carriers can be specified with a range of seating configurations and are customised using the finest materials. An extensive list of available luxury options includes electric heated and cooled seats with a 10-point massage function, advanced infotainment for all passengers, and a driver's partition for enhanced privacy. 
Sutton Bespoke is displaying two of its coach-built VIP Class models at this year's London Classic Car Show (14 to 17 February, London ExCeL), showcasing many of the available VIP Class enhancements. 
The first example on display is a new deluxe bespoke reimagining of the Mercedes Sprinter, finished in Obsidian black and trimmed in soft-touch 'bio-leather'. Between the driver and passengers is a custom electrically-actuated partition providing privacy for the rear passengers to enjoy two 40-inch 4K Smart TVs and a cinema system with seven-zone audio. All interior panelling is clad in the same luxurious soft-touch bio-leather with custom stitching, and there is high-quality thick-pile carpet throughout. The six rear seats have been upgraded to include full reclining functionality, and all have access to a console with a control panel, cup holders and lockable storage unit containing a champagne bucket. To further enhance privacy the vehicle is fully tinted, and sound insulated. The price of this show car is £160,000 plus VAT for business buyers (and £192,000 incl. VAT for private buyers) 
The second is based on the Mercedes-Benz V-Class, with a subtle Obsidian black exterior and a spacious cabin with seven seats retrimmed in ultra-soft Nappa leather (all with black centres and grey bolsters). A double-glazed panoramic roof is surrounded by a stitched headlining in platinum suede, which also covers the A-, B-, C- and D-pillars. Between the two front seats is a two-tone quilted lifting armrest, which tops a large integrated fridge and cup holders with four cut-crystal glasses. A roof-mounted antenna provides 4G connectivity for occupants who also have access to Apple TV, DAB and FM radio via the centre console-mounted touchscreen television. The whole passenger compartment is trimmed in a luxurious thick-pile black carpet. The price of the show car is £92,000 plus VAT for business buyers (£115,000 incl. VAT for private buyers). 
Sutton Bespoke Mustang models also on show
Also on the Sutton Bespoke stand at the London Classic Car Show will be a very special 1967 Sutton Mustang GT500CS. This contemporary interpretation of the original GT500 is truly unique and provides a full 'restomod' specification, with contemporary high-performance upgrades. 
Alongside this will be a Sutton Bespoke GT700CS – a modern UK-spec Mustang with a selection of Sutton Bespoke and official Ford Performance upgrades. Sutton Bespoke fits a Ford Performance supercharger, active exhaust and Recaro sports seats among many other enhancements. The price of the Sutton Mustang GT700CS is £95,000, on the road. Sutton will also upgrade customer Mustangs to their specification using Ford Performance parts. 
The mighty Mustang CS800 displayed in 2018/19 model guise features an all-new enhanced Whipple supercharger, which means the car now produces a massive 850hp and 660 lb/ft of torque. The show-spec CS800 is priced at £115,000, on the road. 
Sutton Monster Raptor CS520
Also on display at its first UK debut is the right-hand drive Sutton Monster Raptor CS520 off-road performance pick-up truck. The CS520 is remanufactured with an uprated intercooler and a remap, helping it produce 520hp and 515 lb/ft of torque. The truck is re-engineered in right-hand drive and distributed by Sutton in the UK, Australia and across South East Asia. The on-the-road price of the vehicle is between £107,000 and £125,000 plus VAT, depending on options.