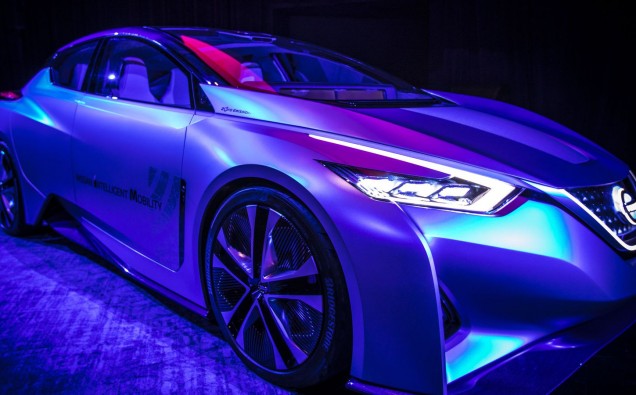 On January 5, 2017 during his CES keynote Nissan Chairman of the Board and Chief Executive Officer Carlos Ghosn announced several advancements as part of the Nissan Intelligent Mobility blueprint for transforming how cars are driven, powered, and integrated into wider society.
Highlights included:
The launch of Nissan's breakthrough Seamless Autonomous Mobility (SAM) system. Developed from NASA technology, SAM partners in-vehicle artificial intelligence (AI) with human support to help autonomous vehicles make decisions in unpredictable situations and build the knowledge of in-vehicle AI. This technology will enable millions of driverless cars to co-exist with human drivers in an accelerated timeline. It is part of Nissan Intelligent Integration.
Leading a Renault-Nissan Alliance engagement, Nissan and Japanese internet company DeNA will begin tests aimed at developing driverless vehicles for commercial services. The first phase of testing will begin this year in designated zones in Japan, with a focus on technology development. By 2020, Nissan and DeNA plan to expand the scope of their tests to include the commercial usage of driverless technology for mobility services in the Tokyo metropolitan area.
A new Nissan LEAF will be coming in the near future. The model will be equipped with ProPILOT technology, enabling autonomous drive functionality for single-lane highway driving.  This new LEAF will build on the company's leadership in electric vehicles, which includes more than 250,000 Nissan LEAFs sold worldwide since 2010. The new LEAF represents the next chapter of Nissan Intelligent Power.
The Renault-Nissan Alliance is continuing its partnership with Microsoft to build the next generation of connected car technologies. The keynote included a demonstration of how Microsoft's personal assistant technology Cortana can make driving more efficient and enjoyable. Cortana is one of the technologies that the Alliance and Microsoft are exploring together.
A new partnership with 100 Resilient Cities – Pioneered by The Rockefeller Foundation (100RC). 100RC is a global non-profit working to help cities build resilience to physical, social, and economic challenges. Together, Nissan and 100RC will help cities lay the groundwork for autonomous drive, electric vehicles, and new mobility services.  Nissan is 100RC's first automotive platform partner.
Nissan Intelligent Mobility
The world is facing serious challenges such as climate change, traffic congestion, road fatalities and increasing air pollution. Nissan is committed to addressing these challenges by making transportation safer, smarter, and more enjoyable, with the ultimate goal of achieving zero-emissions and zero-fatalities on the road. Nissan Intelligent Mobility is the roadmap.
Guided by the vision of mobility for all, Nissan is implementing these innovations by bringing them from luxury segments to compact high volume models and ensuring everyone has access to the benefits. Nissan is making cars exciting partners for all of our customers.
Nissan Intelligent Mobility encompasses three core areas of innovation:
Nissan Intelligent Driving helps to give customers more confidence through enhanced safety, control, and comfort for everyone on board. The building blocks for autonomous driving are already built into Nissan cars with extensive set of advanced safety features including Intelligent Around-View Monitor and Intelligent Lane Intervention. Autonomous drive technologies can already be found in certain Nissan vehicles today, including the Nissan Serena, the first model produced for the mass market to feature ProPILOT technology. Nissan has plans to extend this technology to more models in Europe, Japan, China and the United States, with 10 models to be launched by 2020 by the Renault-Nissan Alliance.
Nissan Intelligent Power makes driving more exciting for customers by continuing to reduce emissions and increase fuel economy. Nissan is committed to a holistic approach to achieving zero-emission mobility by making internal combustion engines more efficient and putting more advanced technologies into our electric vehicles. We continue to advance a variety of powertrain technologies under Nissan Intelligent Power, which are most suitable to the different market segments and different regions across the world. We have a diverse range of EV-based technologies in our portfolio in addition to 100% electric vehicles, these technologies include e-Power (series-hybrid) and fuel cell electric vehicles. Each new technology supplements the portfolio, but does not supplant other technologies.
Nissan Intelligent Integration keeps customers more connected by conveniently linking Nissan cars to the wider society. Nissan is helping to shape a sustainable ecosystem enabling cars to interact with people, other cars and road infrastructure.  This approach will eventually lead to remote vehicle operation, reduced traffic jams, more efficient car-sharing, and improved energy management.
Nissan Intelligent Mobility is not about removing humans from the driving experience. Instead, it's about building a better future for Nissan customers where cars are their partners, and where drivers are more confident and more connected.