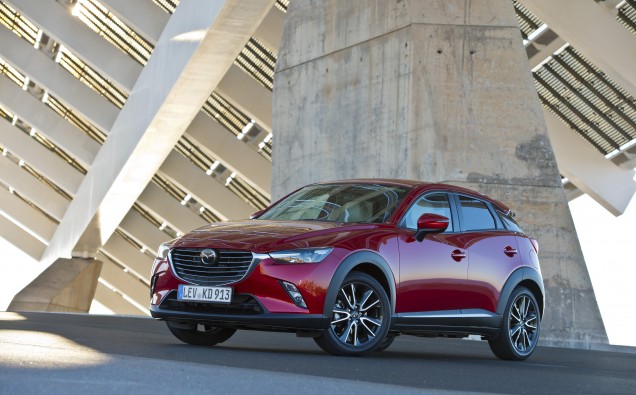 Mazda wins 'Best Fleet Dealer Network (sales)' title at the 2017 ExpertEye Awards.
Annual ExpertEye Awards recognise leading companies from the fleet and automotive industry.
Awards based on feedback from survey of over 60,000 leased vehicle drivers in the UK.
Mazda has been named Best Fleet Dealer Network (sales) in the 2017 ExpertEye Awards. Recognised as the manufacturer providing the best service to fleet drivers in the ordering and delivery of vehicles, ExpertEye's Chairman and founder, Rick Yarrow said, "to win an ExpertEye award you need to be meeting the needs of the fleet sector and company drivers better than anyone else."
The manufacturer categories are based solely on feedback from 60,000 drivers surveyed in ExpertEye's Touchpoint survey, which contacts drivers after key moments such as vehicle delivery or servicing. Commenting on Mazda's win in the sales category Steve Tomlinson, Mazda UK's Head of Fleet Operations said, "at Mazda we've always had a focus on being easy to do business with and so providing an excellent customer experience is a key focus for Mazda UK and our dealers. I am therefore delighted that our dealer network has been acknowledged by fleet customers as providing the best ordering and delivery experience in the industry."
With a stylish and great to drive model line-up, Mazda is set to drive towards further fleet success. The Mazda6 remains Mazda's fleet favourite, but the brand is reporting strong interest among user-chooser company car drivers for both the Mazda CX-3 and the 2017 Mazda3, which benefits from the 105ps 1.5-litre SKYACTIV-D model with CO2 emissions of just 99g/km.
With the launch of the all-new Mazda CX-5 on the 30th June, 2017 promises to be another important year for Mazda UK. Mazda's latest SUV will be on display at the influential Fleet World Fleet Show 2017 on the 10thMay, where key fleet industry figures will also be able to test the 2017 Mazda3, Mazda6, Mazda CX-3 and experience the all-new Mazda MX-5 RF.