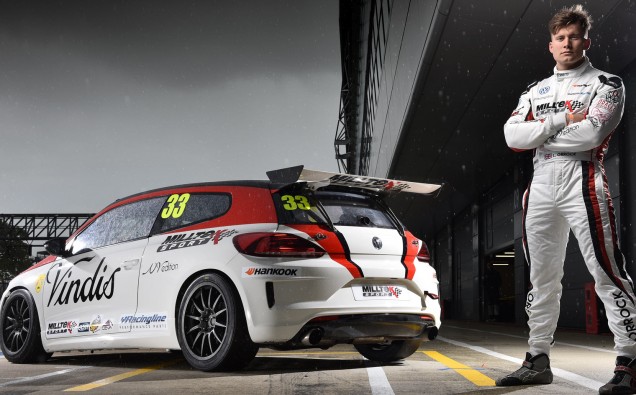 After a year competing in Europe, rapid one-make saloon car racer Lucas Orrock (Cambridge) has become the second driver in a week to announce he will contest the Renault UK Clio Cup in 2017 with the reigning Champion team JamSport.
Orrock, aged 26, was a front-running name in 2016's SEAT Leon Eurocup having finished a close runner-up in the UK-based VW Cup in 2015. He is also a multiple Champion in single-drive and gearbox karts.
For this season however he has opted to move to the UK Clio Cup which he describes as "the pinnacle of single make front-wheel-drive racing in Great Britain". Indeed all 18 of the UK Clio Cup's races will again place at the British Touring Car Championship's high profile events – guaranteeing its teams, drivers and sponsors huge trackside crowds (avg. 38,000+ in 2016) as well as live free-to-air television coverage on ITV4. The 2017 season starts at Brands Hatch, Kent on 1-2 April.
Orrock commented: "The appeal of the UK Clio Cup… the cars, the racing, the very high levels of competition and the great media coverage and exposure – it's got everything going for it.
"I had my first test with JamSport last week at Snetterton and immediately the car is just very enjoyable to drive – comparable in some areas to what I've driven before but with some very nice unique characteristics such as the paddleshift gearbox as well as the all-round engineering.
"The way I see it, we've done the entry-level stuff and gained some very good experience from Europe but for sensible money and setting yourself up for a shot at the BTCC then this is the one."
Already signed with JamSport are two more up-and-coming names – 17-year-old former Fiesta Junior Champion Aaron Thompson and 20-year-old MINI Challenge runner-up Nathan Harrison.
Orrock added: "Aaron is clearly a very exciting young talent already and Nathan was actually at junior level karting when I was in seniors and you could see then he stood out as one to watch. There's bound to be some healthy rivalry between all three of us but I see that as a big positive for the team."
Jamie Going, Team Principal of Northampton-based JamSport, enthused: "We're very excited about Lucas joining our line-up for 2017 – like Nathan and Aaron he has immediately impressed us and his track record speaks for itself. We might be bringing in three new drivers for our title defence year but I honestly believe we already have the most exciting driver line-up of any team out there."
Renault Sport's UK Motorsport Championship Manager Will Fewkes said: "Increasingly we are seeing drivers with absolutely phenomenal potential joining the UK Clio Cup grid. The standard just keeps on going up and it's surely no coincidence that talented drivers like Lucas – who we very much welcome – are saying such positive things about the championship."