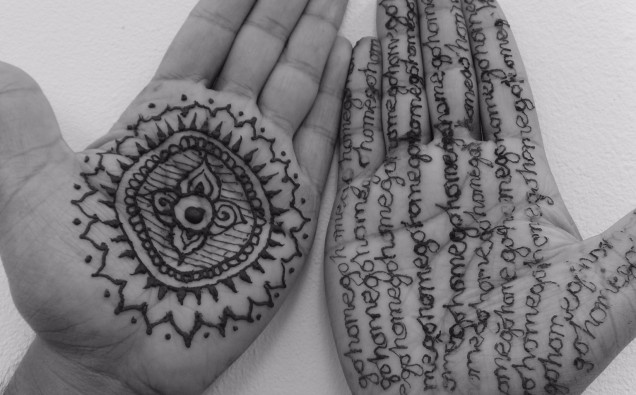 By Zaima Khaliq
The Asian/British Asian group is the largest minority group, accounting for 7.8 per cent of the population, but unfortunately, we as a demographic are still unrepresented in a number of diverse sectors.
Recent studies show this discrepancy by questioning arts professionals on their income, background and career aspirations, in hopes of showing who really populates the country's stages, studios and galleries.
Prominent arts figures have asserted recently, that a career in the arts is increasingly only for the rich and privileged and many young Asian artists are battling against this.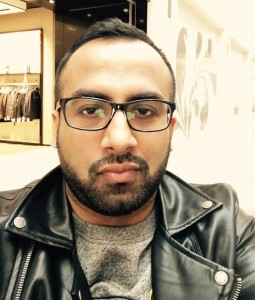 This was certainly the case for local artist Suki Chumber who recently learned about artistic privilege the hard way.
After completing a degree and an MA in Fine Arts, Mr Chumber was hopeful in pursuing a fruitful and passionate career in the field.
He often works with different mediums including, digital and photography to create his diverse and eclectic art collections, including an exhibition which will be displayed in time for the 70th anniversary of the Pakistan/India Partition.
Suki defines his work as protest art, which looks at racism and challenges stereotypes.  He says: "I like to take negative and racial terms and turn them towards the positive to take the power back."
But his effort to diversify and subvert the common racial narrative was slashed when he received little support from a local gallery, despite volunteering with the organisation many years prior.
Mr Chumber took to twitter to see if he could rekindle his bonds with local art organisation, East Side Projects, by requesting to display some of his work.
However, his efforts were met with a barrage of derogatory comments and a less then welcoming attitude from Art Director at the gallery, Gavin Wade.
Suki adds:" I asked him how to go about getting my work displayed in the gallery and he simply responded with 'be awesome.' I playfully responded that I am awesome, but I didn't expect him to retaliate and attack my personal life and work."
The conversation between suki and Wade became more heated and personal as the sarcastic tweets kept coming from the Art Director.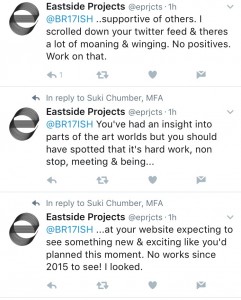 Wade went on to personally attack the up-coming artist by scrolling through his entire feed and even go as far as to tweet: "No one wants to give someone a break if they look like they're not going to be worth it in the long run."
Mr Chumber said: "I suggested he delete his tweets as he was completely out of order. I then blocked him and didn't respond after that."
As an established member of the Arts community, Wade says he was offering valuable advice.
He continues: "He sent me a Cheeky tweet saying, 'how do I get a show at the gallery' which is always disappointing because you'd think that he would already know how it works because he had been volunteering here.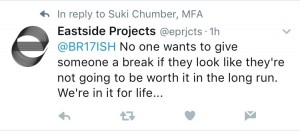 "So I treated it in a good humour and responded by saying 'be awesome!' which is a typical response by me – you ask a straight question, you get a straight answer – if he was really awesome then we could carry on having that conversation."
He adds: "He obviously wanted to call me out in public, so I thought, ok I'll tell him what I think in public. I gave him some good advice, some of my opinions on what would make it more effective if he wants to get exhibitions in galleries. He took a little offence to that, but I didn't mean any offence. "
"When asked whether his comments and tweets would deter other ethnic minority artists from getting involved in the arts sector he said: "What I've said is good advice, if someone read that conversation they would think 'well, don't do that if you're not prepared and actually if I did have loads of new content on my website and I tweeted Gavin at the gallery, he probably would respond and they would look."
This isn't the first time Mr Chumber had dealt with difficulty in the Arts sector. He also experienced questionable treatment at the renowned Birmingham IKON Gallery.
Chumber adds:" Rather than being interested in my art, the director kept on asking me whether I was Pakistani. He asked me the same question 3 times, and I told him I am British Indian, he couldn't move on from my ethnicity."
Suki explained how the public ordeal has left him feeling targeted and lacking in industry support.
He went on to say: "You think when you reach out to people in the industry, you'll get a positive reaction and some help, but I didn't at all.
"The insults that I received were inexcusable and they shouldn't be happening, especially in today's society. To get that from a gallery that I did voluntary work at – it was shocking