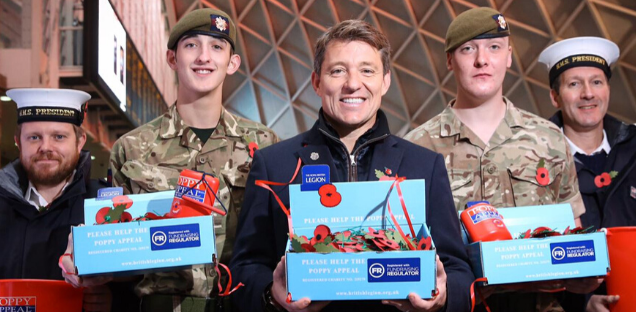 Various representatives from the UK's Armed Forces charity joined the Chelsea Pensioners and community leaders at the Baitul Futuh Mosque AKA the Morden Mosque in Morden for the event that launched 2019's Poppy Appeal in East Surrey.   
The RBL believed it was the first time that a county Poppy Appeal was launched from a mosque.  
The Poppy Appeal is an annual fundraiser for the RBL that commemorates military personnel who sadly passed away during the war, by selling poppies for supporters to wear.  
During the event, speeches were given by the president of RBL, East Surrey, the Deputy Lord Lieutenant Brigadier Paul Evans OBE, and the vice-chairman of Charity Walk for Peace, Rafi Ahmad Bhatti.  
"We at the Royal British Legion do not underestimate the significance of this evening." 
"We understand that we are making history as this, we believe, is the first time that a County Poppy Appeal has been launched in a Mosque complex and the first time that the Last Post has been played here. That said, I know that you have been a huge supporter of Surrey RBL over many years," Deputy Lord Evans said during his address. 
The president referenced the fundraising efforts for RBL that were undertaken by the Ahmadiyya Muslim community, who have raised over £850,000 in total, including a massive £500,000 during 2018 alone. 
"It is a truly impressive achievement, and we in the Royal British Legion are very proud of our association with you and the contribution you have made. 
"I know that I can speak for the Royal British Legion in saying, thank you to all those who collected and donated to what is a critically important military charity," Deputy Lord Evans said. 
Vice-chairman, Rafi Ahmad Bhatti, described the event as "wonderful" and "poignant" in his remarks to the packed conference room. 
"The Poppy Appeal is a poignant way for us to remember the courage and sacrifice of our Armed Forces and support those still serving today." 
"It's wonderful to join thousands of people across the country to help our brave servicemen and women, veterans and their loved ones." 
"I hope this year's appeal will continue the proud tradition of our whole nation coming together to support our troops," he said.