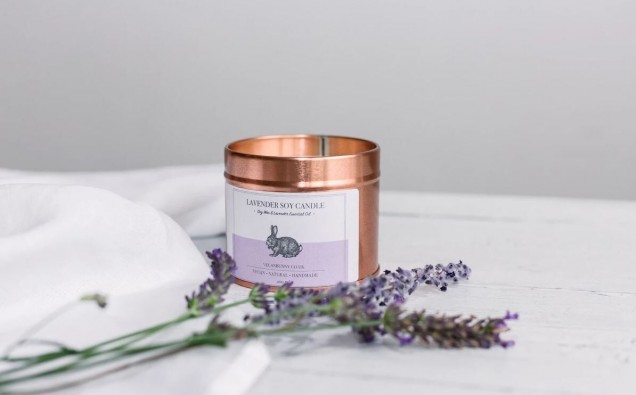 If you're looking to light up your home or office area this festive season, then look no further than Vegan Bunny's award-winning and exclusive cruelty-free range. Every candle is composed of biodegradable soy wax and is free from any animal products.  
Not only are all of vegan Bunny's items eco-friendly, but they are also home-made in the U.S., so the brand doesn't involve any unhappy/unethical production. Each candle is hand-made by founder Elisa and her sister Orianna, who hand-pour, pack and ship it directly to its new home. Every one of Vegan Bunny's unique and fresh smelling candles is guaranteed to bring an aura of warmth and comfort into your workspace or chill-out zone. You can find some of their exclusive scents listed below:  
Lavender Soy Candle – Infused with lavender essential oil, this candle features a key ingredient which is used during deep tissue massages and skin therapy. Lavender has also been found to be a natural relaxing herb that relieves anxiety and stress. Place your lit candle at the edge of your bubble bath when it's time to unwind and set a calming and romantic mood before bedtime.  
Chai Latte Candle – This Vegan Chai Latte scent is a sweet and infusing sensation for the senses. The playful and delightful smell is enough to put anyone in a joyful and easy-going mood. It features hints of cinnamon, ginger and black pepper for the perfect spiced autumnal scent. It's also a no alcohol and naturally infused odour.  
Flush Anxiety Candle – This candle is brought to you with the help of a one of a kind collaboration with Sugar Sloth. It's perfect for any sweet beings that love magical creatures, rainbows and hearts. The candle is decorated in a beautiful array of golden glitter that dazzles and beams brightly as it lights up any room. It also gives off a delicious orange and candy infused scent guaranteed to lift the spirits! 
Christmas Candy Cane Candle – This exceptional candle is like no ordinary Christmas scent. Inspired by the smell of candy canes and warm vanilla, it is reminiscent of some strong Hansel and Gretel gingerbread house vibes. Whisk yourself away in a fairytale-inspired mood with your favourite festive candy smell this season.    
Christmas Pudding Candle – This mini delight is a joyous smell in the days leading up to the holidays, or when you're feeling reminiscent and missing your favourite time of year. With hints of citrus and nutmeg, it will give you nostalgia for your favourite festive dessert, and smells just like when your Nana sets the Christmas pudding alight.  
Vegan Bunny has been awarded 'Best Vegan Candle of the Year' by the Peta UK Vegan Homeware Awards. All candles come packaged in a cute little tin of joy and gift-bag. For an exclusive 10% off discount, Asian World readers can use the discount code AWN when purchasing their first order.  
By Manisha Bhanot